NEW - Manfrotto LANC remote 521LX, The most advanced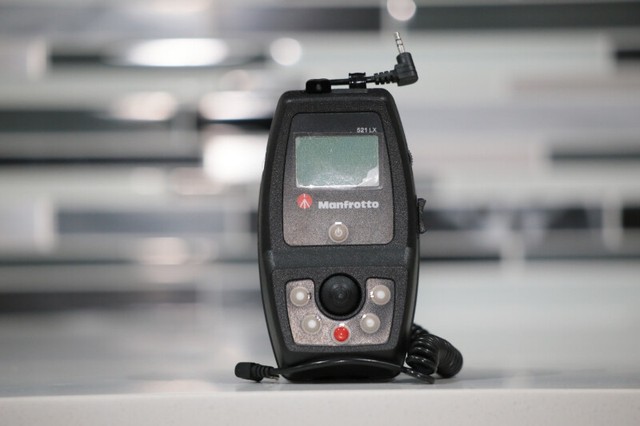 Description
For sale is a brand new (never used) high-end Manfrotto LANC remote control 521LX. This is fully customizable. It comes with everything it came with the purchase. It was bought long time ago, never used. Selling S519 + tax from Manfrotto Canada.
Please check the compatibility chart to ensure your Camcorder is compatible.
The 521LX uses Sony and Canon's widely implemented LANC protocol to allow interaction and command over LANC-enabled camcorders. What makes this unit so innovative is not simply that it has been developed to take full advantage of the latest and greatest LANC-controllable functions. All of those functions and their mapping to the controls of the 521LX are customizable by the user: something truly new and a real benefit to camcorder users, allowing them to get the best performance from their equipment with the most intuitively personalized commands.
Furthermore, the 521LX can be updated in the event of new camcorder features becoming LANC-enabled -- the 521LX has a USB port for connection to your PC; new firmware releases and upgrades will be published on manfrotto.com for download and straightforward update via USB. In this way, the 521LX can always stays abreast of the latest innovations in LANC control, helping videomakers get the most from their camcorders and stay ahead of the competition!
Manfrotto 521LX Compact Remote Control For Sony and Canon Features
Interactive Backlit Digital Display. The interactive backlit display offers quick access to menu selection, while stand-by push buttons are available to save the camera's battery capacity when necessary.
New Clamp System The new clamp system improves speed of attachment and fixing capability. Usable with all the pan bars (diameters 13 mm - 22 mm) without need of extra adapters.
Uses 2.5mm Mini Jack Connector A system with 2.5mm mini jack connector rather than built-in cable means the camera cable can be easily substituted, lengthened or shortened for different set-up requirements.
Focus Control Allows you to choose the focus control modality, either manual or automatic. The menu selection knob combined with the digital display allows you to scroll through setting menu functions for complete control on the 521LX.
Special Zoom Potentiometer Allows direct control of the maximum speed zoom from 1 to 16, depending on the camcorder, ensuring the best control during the shooting.
USB Port The 521LX's USB port allows you to update the firmware with the latest versions so you will always be up to date with the features of most recent cameras.
Multifunction Customizable Joystick Soft, ultra-precise and ergonomic, the multifunction customizable joystick allows you to change zoom, focus and iris (depending on the camcorder) controls without averting your attention from frame.
Customizable Keypad The customizable keypad allows you to set up the keys according to the functions available with the camera you're using, achieving the highest level of interaction with camcorder.
55-inch Coiled Cord Connector Cable Included Supplied with 522SCA coiled cord connector cable measuring 55 inches (140cm) when extended.
Manfrotto 521LX Remote Control Commands Power On/Off Customizable Keys 1, 2, 3, 4 Customizable Joystick Record / Stop Pushbutton Zoom Speed Wheel Auto / Manual Focus Switch Menu Selection Knob Interactive Display
https://www.youtube.com/watch?v=v8wsPKVquKw
Asking $420 obo.
Take steps to make your Kijiji transactions as secure as possible by following our suggested safety tips. 
Read our Safety Tips