NEW--Stryker Boats--Canada's Favorite Inflatable Boat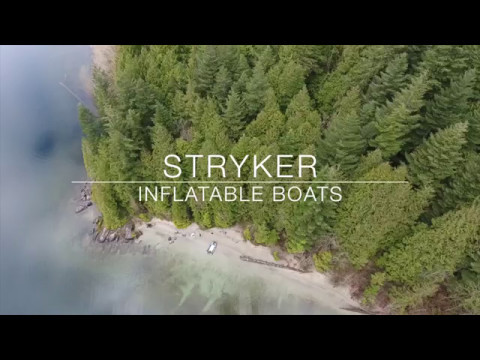 Description
Stryker Boats -- Fully Loaded Premium Inflatables
We are proud to offer more standard features and accessories than any other comparable boat on the market.
WHY CHOOSE STRYKER Exclusive 1 piece reinforced aluminum transom Aluminum Seats Thermowelded high frequency construction Scotty Bases pre-installed at the factory Unique Stryker Shield – wrap around 8" wide corrugated rubber for your boat Best warranty in the business: 5 years on the fabric & 3 years on the seams Military grade peripheral life line Bow, Underseat, Boat and Floor Bags included
We are excited to announce 2 new sizes in our Stryker Hunter JET lineup:
STRYKER HUNTER JET 320 (10 '5") = Price $3,600 STRYKER HUNTER JET 500 (16 '4") = Price $6,200
As well as another size in our Stryker Ranger LX series:
STRYKER RANGER LX 270 (8'9") = Price $2,200
Also check out our other popular Stryker Series:
Stryker Ranger LX 250 (8' 2") = Price: $1,700 Stryker Ranger LX 320 (10' 5") = Price: $2,600 Stryker Ranger LX 360 (11' 8") = Price: $2,900 Stryker Ranger LX 380 (12' 4") = Price: $3,200 Stryker Ranger LX 420 (13' 7") = Price: $3,500
Stryker Hunter X380 15" (12' 4") = Price: $4,200 Stryker Hunter X380 20" (12' 4") = Price: $4,400
Stryker Hunter X420 15" (13' 7") = Price: $4,600 Stryker Hunter X420 20" (13' 7") = Price: $4,800
Stryker Hunter JET 380 (12' 4") = Price: $5,000 Stryker Hunter JET 420 (13' 7") = Price: $5,400
PRICE MATCH GUARANTEE We invite you to shop around. With what we have put into our boats, we are so sure that there is nothing that can compare market (even when spending 3x as much!), that we will beat any competitors price by 5% on any inflatable boats with same features and design quality.
We are always testing our products. Here at Stryker we LOVE the water. This translates to taking our toys out as often as possible for research and development. Being outdoor enthusiasts means we have a true understanding of what our products are capable of and how we can improve on them. We are constantly evolving and always welcome customer feedback which is usually "I love what you guys do!"
Web: http://www.strykerboats.com/ Facebook: http://www.facebook.com/strykerboats/ YouTube: https://www.youtube.com/watch?v=m21Q8rbX7Ko Instagram: @StrykerBoats Phone: 1-844-322-2628 (BOAT) or 604-783-5774
Check out our webpage for instructional videos, photos and specs on our entire line of awesome inflatable boats, inflatable stand up paddle boards, & inflatable kayaks.
The Stryker Difference: :::Excusive 1 piece reinforced aluminum transom :::Fully thermowelded and high frequency construction :::Scotty bases pre-installed at the factory :::Unique Stryker Shield – wrap around 8" wide corrugated rubber for your boat :::1.2mm-1.9mm coated PVC material on the ENTIRE underside of the boat :::Best warranty in the business: 5 years on the fabric & 3 years on the seams :::Factory installed Bimini canopy mounts & attachments :::Custom orders accepted (Call us, we love making dreams come true!) :::Options for jet outboard models available
Stryker Features: :::Non-skid aluminum floor with anodized aluminum stringers (Don't be fooled by inflatable boats offering plywood or slat flooring, these are not the same quality) :::Bow floorboard (Coated marine wood) :::Anti-over inflation valve :::Aluminum engine mounting plate :::Reinforced tube transom attachments :::Standard self bailers with plug :::All around water redirecting rub strake :::4 - 6 x Moulded carry handles (2 for Ranger LX 250) :::Large d-ring bow handle (Stainless Steel) :::2 x oar locks with oar holders :::Miitary grade peripheral life line br> :::Two large tow rings on bow (Stainless Steel) :::6 x Interior d-rings (Stryker Swim Ladder & Stryker Essentials Bag ready) :::Two double eyelet tow rings on transom (Stainless Steel)
Standard Equipment Included: :::Foot pump :::Repair kit :::Oars (aluminum shaft with plastic blade) :::2 Aluminum bench seats (1 for Ranger LX 250) :::Bow, underseat, bow & floor bags included
We accept cash, Visa, MasterCard or American Express. Please add GST & PST.
Call us anytime and we'd love to help you find the perfect boat to suit your needs. 1-844-322-2628 (BOAT) or 604-783-5774
Stryker, inflatableboat, inflatable, boat, dingy, dinghy, tender, yacht, Pontoon, Center console, Aluminum, air mat, high pressure air floor, Sundancer, Fishing, Bowrider, Diesel, Used, Scarab, Houseboat, zodiac, type, style, hunting, scuba diving, rib, rollup, roll up, marine, watercraft, water craft, free, boating, PVC, hypalon, rigid inflatable boats, kayak, stand up, sale, paddle board, zoom, bombard, Avon, typhoon, aero, Achilles, commando, cadet, lite, light, maxxon, pontoons, ribs, cheap, slat floor, wood flooring, aluminium, heavy, strong, yamaha, mercury, tohatsu, honda, nissan, evinrude, johnson, motor, electric, minnkota, gas, propane, fly fisherman, fly fishing, flyfishing, trolling, cruising, caribe, compact, zebec, SUP, seyvlor, sevylor, swivel, pedestal, seats, marine, yacht, captains, expandable, one size, rubber, inflatables, sale, warehouse, shipping, inmar, Saturn, seasport, bayrunner, classic, mark, 2016, 2017, 2018, new, brand new, rubber boat, air nautique, nautic, military, pro, commercial, tough, rugged, Polaris, hunt, gun, guns, fish, moose, deer, sail, water, ocean, river, sea, camo, black, green, salmon, halibut, grouse, gopro, fish finder, crab, rv, camping, fire, camper, hiking, daytrip, island, life jacket, swim, fire pit, fishing rod, rod holders, scotty, bear, outdoor, archery, bow, arrow, canoe, dog, family, dive, jump, swim, float, hunt, shoot, rifle, camo, scent, boots, waders, cariboo, trail, blind, cabin, tent, outdoors, knives, bag, tools, anchor, dock, archery, radio, satelite, rv, gortex, amo, holster, target, iphone, phone,
Take steps to make your Kijiji transactions as secure as possible by following our suggested safety tips.
Read our Safety Tips