NEW--Stryker Boats--Canada's Favorite Inflatable Boat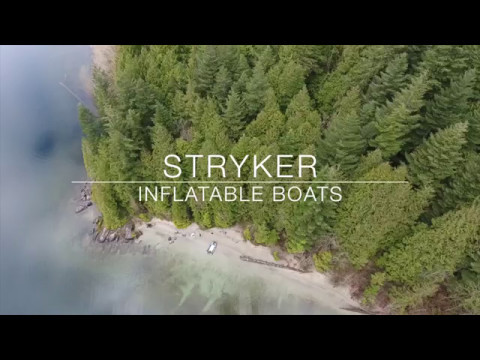 Description
2018 Stryker Boats -- Fully Loaded Premium Inflatables
New upgrades! New Features! Aluminum Transom Aluminum Bench Seats Premium Made in BC Scotty Fishing Products Bases on EVERY BOAT! Hunter X & Hunter JETs now available in 15" or 20" Transom Hunter X, JETs & Blacks includes 2 Scotty® Rod Holders **NEW** Blacked Out Edition (Limited Production) Bow Bags & Seat Bags Included with EVERY BOAT
Stryker Ranger LX 250 (8' 2") = Price: $1,700 Stryker Ranger LX 320 (10' 5") = Price: $2,500 Stryker Ranger LX 360 (11' 8") = Price: $2,800 Stryker Ranger LX 380 (12' 4") = Price: $3,100 Stryker Ranger LX 420 (13' 7") = Price: $3,400
Stryker Hunter X380 SS (12' 4") = Price: $4,000 Stryker Hunter X380 LS (12' 4") = Price: $4,200 Stryker Blacked Out 380 SS (12' 4") = Price: $4,400
Stryker Hunter X420 SS (13' 7") = Price: $4,400 Stryker Hunter X420 LS (13' 7") = Price: $4,600
Stryker Hunter JET 380 (12' 4") = Price: $4,800 Stryker Hunter JET 420 (13' 7") = Price: $5,200
ABOUT STRYKER What is Stryker Shield? Short Answer: Corrugated Rubber Armour Long Answer: We want to give you a genuinely tough boat without adding too much unnecessary bulk to the weight. With Stryker Shield, you get the protection where you need it most. 20cm wide strips under the keel and the tubes. The 2 most likely spots to come into contact with abrasives.
What is Thermowelding? Short Answer: Machine Welded Seams Long Answer: The thermowelding process fuses 2 materials together using heat instead of glue. Glued seams are all produced by hand and are subject to the glue getting 'tired' and letting go. Thermowelding is a much better process because it lasts indefinitely. We are currently the only BC based company offering fully thermoweld tube technology while all our competitors are still only providing hand glued.
Why Inflatable Boats? Short Answer: Compact, rugged, affordable Long Answer: Stryker inflatable boats come in a box that fits into almost any SUVs and lots of cars (I have personally put a 380 in both a Mini Cooper & Honda Fit). Included in every box are 2 heavy duty storage bags: 1 for your boat and 1 for the floor and accessories. With 2 bags they become entirely manageable for 1 or 2 people. Stryker Boats are versatile! You can leave them folded in your vehicle or tow them on a trailer.
Why Choose Stryker? Short Answer: You are supporting a local small business. Long Answer: We are *ALWAYS* testing our products.. We LOVE the water! Here at Stryker we are outdoor enthusiasts which means we have a true understanding of what our products are capable of and how we can improve on them. Research and development is one of our favourite things to do. Customer feedback is important to us and when asked it is usually 'I love what you guys do!'.
Web: http://www.strykerboats.com/ Facebook: http://www.facebook.com/strykerboats/ YouTube: https://www.youtube.com/watch?v=1CTmkT_Cwwk Instagram: @StrykerBoats Phone: 604-783-5774
Stryker, inflatableboat, inflatable, boat, dingy, dinghy, tender, yacht, Pontoon, Center console, Aluminum, air mat, high pressure air floor, Sundancer, Fishing, Bowrider, Diesel, Used, Scarab, Houseboat, zodiac, type, style, hunting, scuba diving, rib, rollup, roll up, marine, watercraft, water craft, free, boating, PVC, hypalon, rigid inflatable boats, kayak, stand up, sale, paddle board, zoom, bombard, Avon, typhoon, aero, Achilles, commando, cadet, lite, light, maxxon, pontoons, ribs, cheap, slat floor, wood flooring, aluminium, heavy, strong, yamaha, mercury, tohatsu, honda, nissan, evinrude, johnson, motor, electric, minnkota, gas, propane, fly fisherman, fly fishing, flyfishing, trolling, cruising, caribe, compact, zebec, SUP, seyvlor, sevylor, swivel, pedestal, seats, marine, yacht, captains, expandable, one size, rubber, inflatables, sale, warehouse, shipping, inmar, Saturn, seasport, bayrunner, classic, mark, 2016, 2017, 2018, new, brand new, rubber boat, air nautique, nautic, military, pro, commercial, tough, rugged, Polaris, hunt, gun, guns, fish, moose, deer, sail, water, ocean, river, sea, camo, black, green, salmon, halibut, grouse, gopro, fish finder, crab, rv, camping, fire, camper, hiking, daytrip, island, life jacket, swim, fire pit, fishing rod, rod holders, scotty, bear, outdoor, archery, bow, arrow, canoe, dog, family, dive, jump, swim, float, hunt, shoot, rifle, camo, scent, boots, waders, cariboo, trail, blind, cabin, tent, outdoors, knives, bag, tools, anchor, dock, archery, radio, satelite, rv, gortex, amo, holster, target, iphone, phone, cell,
Take steps to make your Kijiji transactions as secure as possible by following our suggested safety tips.
Read our Safety Tips