N&N 8.5'X30 GALV 10 TON DECKOVER + GOOSENECK EQUIPMENT HAULER!!
Posted
4728 Egremont Drive, Strathroy, ON, N7G 3H3
(View Map)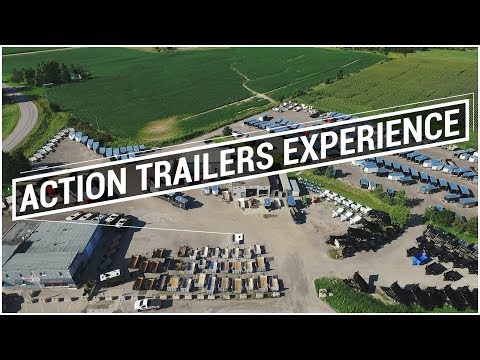 Description
GREAT LOOKS, GREAT SPECS, GREAT PRICE ! THATS THE ACTION TRAILERS ADVANTAGE Tired of looking at or seeing rusted steel equipment trailers in your drive way ? - FIX IT , by going HOT DIPPED GALVANIZED FRAME, AXLES AND WHEELS. STOP HAVING TO REPLACE YOUR TRAILER EVERY 5 YEARS !!! NEW 10 ton Gooseneck dually 30" Galvanized Deck over equipment trailer $19,455 or pay monthly with $0 down at $415 per month OAC Highlighted Featres: -Goose neck -Deckover -(2) 10,000 lb Axles -Diamond plated toolbox -(2) Front access steps -Stake pockets and rub rails down both sides -Heavy duty spring assisted flip over ramps -(2) rear drop downs stabilizer legs 22,453 lb GVWR 7,484 lb Empty Weight 14,969 lb Payload (There"s alot of cheap trailers out there, and this is NOT one of them ) - Compare quality with the fit and finish of our N&N series equipment haulers, and this is by far the best bang for your buck ! (2) 10,000LB DEXTER axles with oil bath bearings   + comes with all wheel electric brakes with battery breakway kit - Front HD bulk head to protect your equipment from stone damage - Dual HD 12,000LB drop leg jacks with grease points - LED Backup lights included - Welded on HD side mount steps with guards on each side of trailer to step up onto the deck - LED Midship turn signals for better viability to let traffic know your switching lanes. - Welded in mesh tool box, integrated into the front tongue - 1/2" thick rub rail down both sides of the trailer for extra tie down capabilities - 16" Galvanized wheels with 8 bolt hub - 10" @19lbs/feet H-Beam main frame - 40" flip over ramps with aluminum recover - each ramp has 4 HD springs on it to make easier to maneuver up and down. - Cold weather 7 way wire harness - eliminate having to replace your wire harness every few years with it cracking and getting brittle with our cold winters. ( other companies charge extra for this ) - HD welded on d-rings all around trailer plus stake pockets - lots of tie down points - Galvanized axle upgrade to prevent even the axles from rusting - Hott dipped galvanized frame to help prevent from rusting away in a few years - - Slipper suspension upgrade for smoother ride - not your standard equalizers - 5" Beaver tail with ramps that flip over to have 25" full deck access. - LED Light upgrade all around the trailer - compared to regular lights everyone else has - 2" x 8" Hemlock deck - A lot of trailers just have regular plywood /pressure treated which will not last as long as this. - Galvanized rims- Why have a cheap white steel wheel that will be rusted out within the first year ? That is why we use galvanized rims to last. You get what you pay for, keep in mind this before you go out and just buy any trailer in the market. Compare specs and ask your self how long do you want to keep this trailer for ? Do you want to constantly have to repaint it every couple of years because of all the salt and gunk on the roads, or do you want to do as little maintenance as possible and have your equipment looking pristine for years to come ....... _____________________________________________________________________________ How do we have such competitive prices on our trailers ? Low overhead and High volume ! - come and see our 200+ inventory Answers to Frequently asked questions: Payment methods - Certified cheque, debit, e-transfer, financing and cash For any other questions please give us a call, we do build custom trailers as well ( check out more of our ads - at view poster ads ) - top right hand where you reply to ( ** Attention all consumers ** Please note that all of our prices include hidden fee's that other dealers will try to charge you extra for, such as: $100 + admin fee's and $400-$600 freight costs. Be aware of other dealers out there that don't offer 'in house warranty' that will make you jump through hoops to get any type of service or warranty work done to your trailer after the sale. There's many small dealers out there that try to tell you there trailers are built the same as everyone else's, but lets be honest, all trailers are NOT built the same, there's lots of quality differences out there in the trailer industry, which certainly reflects the gap in pricing and overall a manufacture's reputation. We strongly advise our customers to do there home work and compare the specs, frame sizes and features of each trailer there looking into, that way your going to understand the differences and benefits in each product line yourself. By doing this you will truly know if your getting the best bang for your buck ) Please give us call #1-866-885-2569 Our dealership is located just outside of London, West on Fanshawe Park Rd ( Please call ahead of time to check availability ) www.actiontrailers.ca Business Hours Monday-Friday 9-6pm Saturday 9-4pm Ad Details: Type New VIN GENERIC-NNEQHDOGN8530-22K Stock NNEQHDOGN8530TA-22.5K Year 2021 Color GALVANIZED


Take steps to make your Kijiji transactions as secure as possible by following our suggested safety tips.
Read our Safety Tips