2004 Chevrolet Corvette Z06 Fixed Roof Coupe Hardtop Low Kms
$32,988.00
+ applicable taxes
Posted
222 - 2 Black Walnut Rd, Saint George Brant, ON, N0E 1N0
(View Map)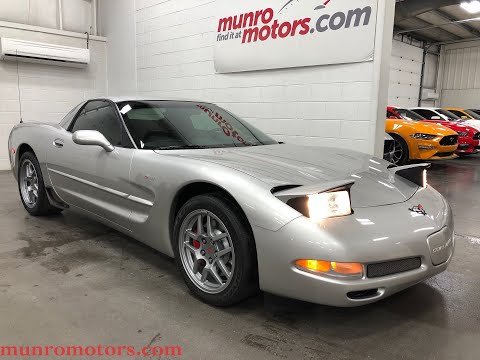 Condition

Year

Make

Model

Trim

Z06 Fixed Roof Coupe Hardtop Low Kms

Colour
Body Type

Drivetrain

Rear-wheel drive (RWD)

Transmission

Manual

Fuel Type

Stock #

119755

Kilometers

33,886
Find out if this seller offers financing
Inquire Now
Car Insurance online calculator
Get my price in 3 minutes for this car
The above message is from an independent, third-party provider and Kijiji is not responsible for its products or services.
Description
Munro Motors
Super clean, all original, not modified, no paintwork no accidents, 4 brand new OEM Good Year Eagle F1 tires, certified and ready to take home with you.
The C5 Z06 comes equipped with a small-block 5.7-liter LS6 engine, essentially a version of the standard C5's LS1 with a higher compression ratio and wilder valve timing, as well as different cylinder heads and intake and exhaust manifolds. Z06 gave 405 horsepower at 6000 rpm, with 400 pound-feet of torque at 4800 rpm. Its charter is simple: extreme performance presented in a civilized manner at reasonable cost. Three years after its 2001 introduction, the Z06 is a benchmark by which sports cars for aggressive drivers are judged. On race tracks and autocross courses all over America, it spanks cars costing upwards of half-again its price. You can never have enough power, but, while the Z06's 405hp LS6 V-8 is quite an engine, its ride, handling and refinement are what make this 'Vette a smart bomb in the bang-for-the-buck category and because of it's neutral balance, snappy response in transitions, and appropriate steering feel and effort. What makes a Z06's handling a cut above normal C5 Corvettes? The basics are: specific, higher rate springs and anti-roll bars; unique, fixed-valve Sachs shocks; slightly different alignment; wider wheels and Goodyear's outstanding Eagle Fl Supercar ultra-performance radial tires.
RPODescriptionMatches
UN0RADIO,AM/FM,STEREO,SEEK/SCAN,COMPACT DISC,AUTO TONE,CLOCK,ETR STEREO W/CD PLAYER(UN0)5,683
UZ6SPEAKER SYSTEM 6, QUAD FRT DR MTD, DUAL QTR MTD 6 SPEAKER SYSTEM(UZ6)5,683
U52CLUSTER,INSTRUMENT(ELECTRONIC) ELEK GA CSTR(U52)5,683
U73ANTENNA,FIXED FIXED ANT(U73)5,683
VDCVEHICLE INFORMATION - CD, CUSTOMER ORIENTATION5,533
VM3LABEL INFORMATION CONSUMER, CONTAINS BPR IMP STANDARD FOR FRT 5 MPH & RR 5 MPH 5 MPH BUMPER INFO LABEL(VM3)4,482
V73VEHICLE STATEMENT - US/CANADA US/CANADA VEHICLE STATEMENT(V73)5,675
XFWTIRE FRONT P265/40R17-91Y BW R/PE ST TL HW4 TIRE(XFW)5,682
YFUTIRE REAR P295/35R18-91Y BW R/PE ST TL HW4 TIRE(YFU)5,682
1SAPACKAGE-OPTION 01 (1SA)3,740
1SZPACKAGE OPTION- (1SZ)5,516
19IINTERIOR TRIM COLOR (19I)5,020
194TRIM COMBINATION,BLACK LEATHER (194)2,995
67UEXTERIOR COLOR,LT TARNISHED SILVER MET (04) (67U)967
AABMEMORY DRIVER CONVENIENCE PACKAGE CONVENIENCE PKG(AAB)5,446
AK5RESTRAINT SYSTEM,FRONT SEAT,INFLATABLE,DRIVER AND PASSENGER DRIVER & PASS F/SEAT INFL RST SYS(AK5)5,683
AR9SEAT,FRONT BUCKET,DRIVER,PASSENGER,MANUAL RECLINING(EUROPEAN STYLE) MAN RECL FRT BKT ST,DELUXE(AR9)5,683
BGRPLANT CODE - BOWLING GREEN, KY, USA5,683
B84ORNAMENTATION,EXTERIOR,BODY SIDE MOLDING BODY SI MLDG(B84)3,358
CJ2HVAC SYSTEM AIR CONDITIONER FRT, AUTO TEMP CONT, AUX TEMP CONT A/C FRT AUTO/AUX CONT(CJ2)5,683
DD0MIRROR,O/S,R AND L REM CTL,ELEC,DEFOG,LT SENSITIVE O/S ELEC R/CON MIR(DD0)5,446
DD8MIRROR,INSIDE,REARVIEW,TILT,AUTOMATIC,LIGHT SENSITIVE I/S RR VIEW MIR,LIGHT SENSITIVE(DD8)5,446
DL5DECAL ROADSIDE SERVICE INFORMATION ROADSIDE SERVICE INFO DECAL(DL5)5,533
FE4SUSPENSION SYSTEM SPECIAL RIDE & HANDLING SPECIAL SUSP(FE4)5,683
FE9FEDERAL EMISSION CERTIFICATION FED EMIS(FE9)4,046
GU6AXLE,REAR,3.42 RATIO 3.42R(GU6)5,683
IP4TRIM,INTERIOR DESIGN (IP4)3,658
JL9BRAKE SYSTEM,POWER,FRONT AND REAR DISC,ANTILOCK FRT & RR DISC ANTILOCK BRK(JL9)5,683
K63GENERATOR 110 AMP 110 AMP GEN(K63)5,683
LS6ENGINE GAS, 8 CYL, 5.7L, SFI, ALUMINUM, HIGH OUTPUT 5.7S(LS6)5,683
MN6TRANSMISSION,MANUAL 6-SPEED PROVISIONS(MERCHANDISING OPTION) 6-SPD M/TRANS PROVISIONS(MN6)5,683
M12TRANSMISSION MAN 6 SPD, TREMEC, 85MM, 1ST 2.97, 6TH 0.57, O/D 6-SPD M/TRANS(M12)5,683
NK4STEERING WHEEL,SPORT,LEATHER WRAPPED LEATHER WRAPPED SPORT STRG WHL(NK4)5,683
NT9EMISSION SYSTEM FEDERAL, TIER 2 PHASE-OUT TIER 2 PHASE-OUT FED EMIS(NT9)4,053
P12WHEEL, 17 X 9.5 FRT & 18 X 10.5 REAR, CAST ALUMINUM SPECIAL PERFORMANCE ALUM WHEEL(P12)3,658
SLMSALES PROCESSING - STOCK ORDERS5,084
https://vhr.carfax.ca/main?id=xzr2WEIWnWldws4v76JQZ6rHsUe6NJtq
Yes we take trade in vehicles.
Check us out on youtube; https://www.youtube.com/watch?v=YGWJMdwAmgk
We are out in the country, almost the middle of nowhere, roughly east of Hwy #24 and south off Hwy #5, north of Brantford, east of London, south of Cambridge, and west of Hamilton. In order to get our customers to come here, we have to have great prices, and then when you get here, we have to have a great car in order to earn your business.
Our hours are Monday to Friday 10-5 and 10am to 2pm Saturdays except for July, August and Holiday weekends when we are closed Saturday. We are always closed on Sundays.
At Munro Motors, we find unique vehicles and post our entire stock online in order to ensure that our vehicles find their happy home.
To ensure our customers can get what they've always wanted, we offer financing services through TD Bank, Desjardins, Scotia Bank, and First West Leasing on vehicles that are less than 10 model years old and boats that are less than 25 model years old.
We also offer warranty products through Lubrico, Coverage One, and Nation Wide, to make sure that your mechanical baby stays in tip-top condition.
Because of that we have been delivering vehicles to Switzerland, Finland, Rotterdam, Emo, Thunder Bay, Kapuskasing, Halifax, Sudbury, Sault Ste. Marie, Cornwall, Fort Francis, Kelowna, Montréal, Saskatchewan, Virginia, Newfoundland, Edmonton, Ottawa, Montreal, Fredericton, Winnipeg, as well as Cambridge, Kitchener, Waterloo, Barrie, Windsor, London, Pickering, Peterborough, Oshawa, Waterloo, Blind River, the Greater Toronto Area, and even so far as the Czech Republic!
All of our vehicles are hand-picked by the very knowledgeable owner, Andy Munro, who has been connecting people to their dreams for many years.
Financing available for good credit and bruised credit OAC as low as 4.89%, ask or details.
Call Andy Munro at 1 (877) 738-8063 Munromotors.com
Email; andrew@munromotors.com
Buy it today, drive it today!
Most of our vehicles are already reconditioned, saftied, etested and ready to drive home with you.
Delivery is available. Ask for details
All prices are subject to HST and licensing, no hidden fees
Take steps to make your Kijiji transactions as secure as possible by following our suggested safety tips.
Read our Safety Tips