2016 Chevrolet Corvette 3LT Nav Suede Convertible Low KMs
$64,988.00
+ applicable taxes
Posted
222 - 2 Black Walnut Rd, Saint George Brant, ON, N0E 1N0
(View Map)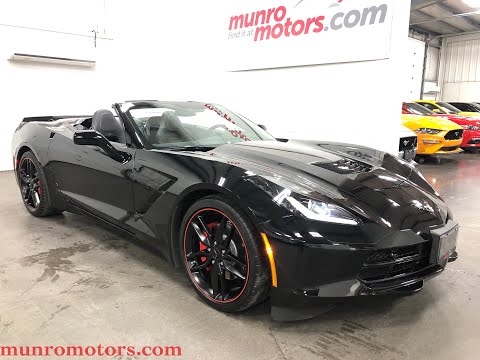 Condition

Year

Make

Model

Trim

3LT Nav Suede Convertible Low KMs

Colour
Body Type

Drivetrain

Rear-wheel drive (RWD)

Transmission

Manual

Fuel Type

Stock #

124160

Kilometers

5,950
Find out if this seller offers financing
Inquire Now
Car Insurance online calculator
Get my price in 3 minutes for this car
The above message is from an independent, third-party provider and Kijiji is not responsible for its products or services.
Description
Munro Motors
Warranty began at the in service date of August 17, 2018, so lots of warranty on this car with super low kms. Loaded with Navigation, data recorder, front and rear cameras, NPP performance exhaust, heated and cooled seats, heads up display in colour, power convertible top which can work while driving low speeds, 7 speed manual transmission, suede steering wheel, dash, pillars and seat inserts, carbon fiber interior trim package, black painted wheels, red painted calipers, Bose sound system,driver memory package.
AABMEMORY DRIVER CONVENIENCE PACKAGE CONVENIENCE PKG(AAB)
AG2ADJUSTER,SEAT,6-WAY POWER,SPLIT BENCH,PASSENGER 6-WAY PWR P/SEAT ADJR(AG2)
AJKCONTROL SEAT, POWER BOLSTER, POWER LUMBAR POWER LUMBAR & POWER BOLSTER SEAT CONTROL(AJK)
AJ7RESTRAINT SYSTEM FRT SEAT, INFLATABLE, DRIVER AND PASSENGER, FRT & SIDE INFL RST FRT & SI(AJ7)
AL0SENSOR INDICATOR INFLATABLE RESTRAINT, FRT PASS/CHILD PRESENCE DETECTOR FRT PASS/CHILD PRESENCE DETECTOR INFL REST IND SENSOR(AL0)
AP9NET,CONVENIENCE CONVENIENCE NET(AP9)
AQ9SEAT,FRONT BUCKET,DRIVER,PASSENGER,RECLINING RECL FRT BKT ST,LUXURY(AQ9)
AXJVEHICLE TYPE PASSENGER CAR PASSENGER CAR VEH TYPE(AXJ)
BGRPLANT CODE - BOWLING GREEN, KY, USA
B4HMODIFICATION-NOISE CONTROL, EXPORT MODIFICATION-NOISE CONTROL(B4H)(EXPORT)
B92HOOD CARBON FIBER CARBON FIBER HOOD(B92)
CJ2HVAC SYSTEM AIR CONDITIONER FRT, AUTO TEMP CONT, AUX TEMP CONT A/C FRT AUTO/AUX CONT(CJ2)
CM8ROOF - CONVERTIBLE, FOLDING, POWER, REMOTE CONTROL
DD0MIRROR,O/S,R AND L REM CTL,ELEC,DEFOG,LT SENSITIVE O/S ELEC R/CON MIR(DD0)
DD8MIRROR,INSIDE,REARVIEW,TILT,AUTOMATIC,LIGHT SENSITIVE I/S RR VIEW MIR,LIGHT SENSITIVE(DD8)
EFRLOCAL - PACKAGE; GAMMA 1.4 COMFORT H/BACK
ERIEQUIPMENT BATTERY SAVER BATT SAVER EQUIP(ERI)
EYTORNAMENTATION EXT EMBLEM, NAMEPLATE, CARBON FLASH, PACKAGE
E57BODY EQUIPMENT - FORWARD CONTROL, GRUMMIN-OLSON, STURGIS, MI
FCCFLEET INCENTIVE - ICE CREAM PARTNERS USA, INC. (H/N/U/W-TRK CKGST)
FE2SUSPENSION SYSTEM,RIDE AND HANDLING RIDE & HANDLING SUSP(FE2)
FE9FEDERAL EMISSION CERTIFICATION FED EMIS(FE9)
FHOVEHICLE FUEL GASOLINE E10 E10 GASOLINE FUEL TYPE(FHO)
GBAPRIMARY COLOR EXTERIOR, BLACK (G) EXTERIOR COLOR(GBA)
GU6AXLE,REAR,3.42 RATIO 3.42R(GU6)
HBZHEADLAMP COLOR BEZEL, DK CHROME
IL8Unk.
IO6RADIO INFOTAINMENT SYSTEM-UPLEVEL W/CONNECTIVITY & EMBEDDED NAVIGATION UPLEVEL RADIO W/CONNECTIVITY & EMBEDDED NAV INFOTAINMENT SYSTEM(IO6)
IWEINTERIOR TRIM PKG WRAPPED SUEDE
I16ENGINEERING YEAR 2016
JL5Unk.
JL9BRAKE SYSTEM,POWER,FRONT AND REAR DISC,ANTILOCK FRT & RR DISC ANTILOCK BRK(JL9)
J6FCALIPER COLOR RED BRAKE CALIPER COLOR(J6F)
KQVUnk.
LT1Unk.
MBCMARKETING AREA CANADA CANADA(MBC)
MEPTRANSMISSION MAN 7 SPD, TREMEC (TR6070), 2.664 1ST, 0.424 7TH 7-SPEED MANUAL TRANS(MEP)
NPPEXHAUST SYSTEM PERFORMANCE PERF EXH(NPP)
NT7EMISSION SYSTEM FEDERAL, TIER 2 TIER 2 FED EMIS(NT7)
N26Unk.
N38STEERING COLUMN TILT, TELESCOPING, POWER PWR RETRACTABLE TILT STRG COL(N38)
ROOUnk.
R7WCONTROL - SALES ITEM NO. 47
R87WHEEL 19 X 8.5, J, FRT & 20 X 10.0, J, RR, ALUMINUM, DESIGN 7
SLMSALES PROCESSING - STOCK ORDERS
T4FHEADLAMPS HIGH INTENSITY DISCHARGE HIGH INTENSITY DISCHARGE HEADLAMPS(T4F)
UE1COMMUNICATION SYSTEM VEHICLE, G.P.S. 1 GPS 1 VEH COMM SYS(UE1)
UG1OPENER GARAGE DOOR, UNIVERSAL UNIVERSAL GARAGE DR OPENER(UG1)
UHSDISPLAY INSTRUMENT DRIVER INFO ENHANCED (MULTI COLOR ENHANCED GRAPHIC ) ENHANCED GRAPHIC DRIVER INFO DISPLAY(UHS)
UQSSPEAKER SYSTEM PREMIUM AUDIO BRANDED WITH SURROUND AMPLIFIER PREMIUM SPKR SYS W/SURROUND AMP(UQS)
UQTRECORDER VEHICLE PERFORMANCE
UTJTHEFT DETERENT ELECTRICAL, UNAUTHORIZED ENTRY UNAUTHORIZED ENTRY THEFT DETERENT(UTJ)
UTTTHEFT DETERENT BODY SECURITY CONTENT THEFT DETERENT BODY SECURITY CONTENT(UTT)
UTUSENSOR, VEHICLE INCLINATION VEHICLE INCLINE SENSOR(UTU)
UTVSENSOR, VEHICLE INTERIOR MOVEMENT VEHICLE INTERIOR MOVEMENT SENSOR(UTV)
UVJCAMERA FRONT VIEW
UV6DISPLAY,HEADUP HEAD UP DISPLAY(UV6)
U19SPEEDOMETER,INSTRUMENT,KILOMETERS PER HOUR KPH SPEEDO(U19)
U2KDIGITAL AUDIO SYSTEM S-BAND DIGITAL S-BAND AUDIO SYS(U2K)
VA5LANGUAGE LABEL(ENGLISH) ENGLISH LANGUAGE LABEL(VA5)
VHMUnk.
VH9ENVELOPE,OWNER INFORMATION MANUAL OWNER INFO MAN ENV(VH9)
VK3LICENSE PLATE,FRONT MOUNTING PACKAGE FRT LIC PLT MTG PKG(VK3)
VRGVALUE ADDED ASM COCKPIT VALUE ADDED COCKPIT(VRG)
VRHVALUE ADDED ASM STEERING COLUMN VALUE ADDED STRG COLUMN(VRH)
VRKVALUE ADDED ASM ROOF TRIM UPLEVEL ROOF TRIM(VRK)
VRLVALUE ADDED ASM FRONT HORIZONTAL SUSPENSION HORIZONTAL FRT SUSP UPGRADE(VRL)
VRMVALUE ADDED ASM FRONT VERTICAL SUSPENSION VERT FRT SUSP UPGRADE(VRM)
VRNVALUE ADDED ASM REAR SUSPENSION RR SUSP UPGRADE(VRN)
VRRVALUE ADDED ASM TIRES & WHEELS TIRES & WHEELS UPGRADE(VRR)
VT7OWNERS MANUAL ENGLISH LANGUAGE ENGLISH LANGUAGE OWNERS MANUAL(VT7)
VV4Unk.
V8EVEHICLE STATEMENT CANADA CANADA VEHICLE STATEMENT(V8E)
WMGVIN MODEL YEAR 2016
XFJTIRE FRONT - P325/30ZR19-94Y BW TL HW4 EMT
XL8FREQUENCIES 433 MHZ 433 MHZ FREQ(XL8)
ZF1SALES PACKAGE 19/20 WHEEL TIRE AND SPOILER
ZLGUnk.
Z49MANDATORY CANADIAN BASE EQUIPMENT MODIFICATIONS(CANADIAN) CANADIAN(Z49)
1SZPACKAGE OPTION- (1SZ)
19IINTERIOR TRIM COLOR (19I)
198Unk.
3LTPACKAGE LT OPTION 3 "LT" PKG 3(3LT)
41TVINYL TOP COLOR,BLACK (41T)
5A7SPARE WHEEL DELETION 5A7)
6X1COMPONENT FRT LH NON-COMPUTER SEL SUSP SUSP(6X1)
7X1COMPONENT FRT RH NON-COMPUTER SEL SUSP SUSP(7X1)
8X2COMPONENT RR LH NON-COMPUTER SEL SUSP SUSP(8X2)
9L3TIRE SPARE DELETE 9L3)
9X2COMPONENT RR RH NON-COMPUTER SEL SUSP SUSP(9X2)
https://vhr.carfax.ca/main?id=ijmuBJZuhlJgfLHsvRrpOXLR%2bjU2l6Sz
Yes we take trade in vehicles.
Check us out on youtube; https://www.youtube.com/watch?v=ZmsQFq_qr_Q
We are out in the country, almost the middle of nowhere, roughly east of Hwy #24 and south off Hwy #5, north of Brantford, east of London, south of Cambridge, and west of Hamilton. In order to get our customers to come here, we have to have great prices, and then when you get here, we have to have a great car in order to earn your business.
Our hours are Monday to Friday 10-5 and 10am to 2pm Saturdays except for July, August and Holiday weekends when we are closed Saturday. We are always closed on Sundays.
At Munro Motors, we find unique vehicles and post our entire stock online in order to ensure that our vehicles find their happy home.
To ensure our customers can get what they've always wanted, we offer financing services through TD Bank, Desjardins, Scotia Bank, and First West Leasing on vehicles that are less than 10 model years old and boats that are less than 25 model years old.
We also offer warranty products through Lubrico, Coverage One, and Nation Wide, to make sure that your mechanical baby stays in tip-top condition.
Because of that we have been delivering vehicles to Switzerland, Finland, Rotterdam, Emo, Thunder Bay, Kapuskasing, Halifax, Sudbury, Sault Ste. Marie, Cornwall, Fort Francis, Kelowna, Montréal, Saskatchewan, Virginia, Newfoundland, Edmonton, Ottawa, Montreal, Fredericton, Winnipeg, as well as Cambridge, Kitchener, Waterloo, Barrie, Windsor, London, Pickering, Peterborough, Oshawa, Waterloo, Blind River, the Greater Toronto Area, and even so far as the Czech Republic!
All of our vehicles are hand-picked by the very knowledgeable owner, Andy Munro, who has been connecting people to their dreams for many years.
Financing available for good credit and bruised credit OAC as low as 4.89%, ask or details.
Call Andy Munro at
Take steps to make your Kijiji transactions as secure as possible by following our suggested safety tips.
Read our Safety Tips