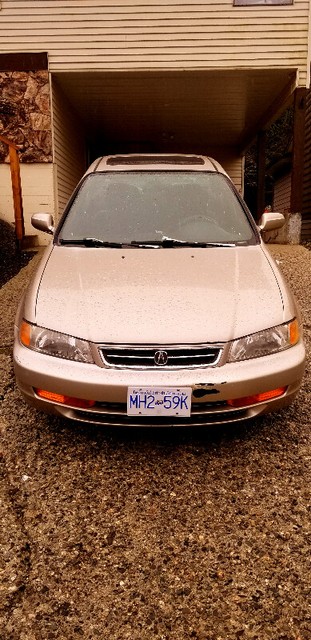 Description
$3,000 OBO
I am the second owner of this vehicle, and have had it for 40,000 km, even having used it to go to Vancouver and back, as well as a couple times to Terrace and back.
It has wireless turn on fob, so you can turn on the engine and let it run to warm up the inside during the winter and whatnot! I've done my best
During this time the following has been changed or fixed.
-Oil of course (Always done by me with Castrol Edge High Mileage oil)
-Transmission Fluid (drained once and filled back up with Royal Purple ATF, from a very good oil company known for their component cleaning products)
-Shifter Cable (Fixed by Terrace Honda) -Serpentine Belts (All three of them were changed less than most likely 20,000 km ago, though I can't recall exactly)
-Headlights (Bought some special LED ones that are able to change from white to yellow (acting as fog lights in the case of harsh fog, rain, or snow, they help because they reduce a lot of glare and make things easier to see)
-Windshield Wiper Blades (These RainX Silicone wiper blades apply a rain beading coat of some sort each time they wipe over the windshield, making them end up looking quite a lot cleaner and clearer)
-Gumout Multi-System Cleaner Fluid added to gas every 5,000 km or so (Just for a bit of preventative maintenance)
The few problems this vehicle does have include
-Tires, may take you back about 500 for some good all season ones (There's a bit of frankenstein mess of different type of tires I've been had to put on here for the past 1,000 or so km here, they are desperately in need of a swap and I would be hard on getting them changed before going out to Terrace or elsewhere with this vehicle) At the moment, it currently is using one spare tire (Changed after pictures were taken)
-Minor Oil Leak from oil pan gasket area (I've just ended up topping it off with some Castrol Edge oil about maybe 3 times every 2 months or so. If you plan on driving this car at very gradually paced speeds, and don't accelerate hard at all or go super high into revs for extended periods of time, it really shouldn't be an issue for you)
-Rust on body (Specifically just a bit at the very bottom of the door panels, and a bit on the rear wheel wells, as seen in the picture. Only thing that may be good to look at is the Rear Bumper Impact Bar, which is rusted out quite a bit. If you're very worried about ever getting rear ended and having any sort of precious cargo in the trunk, it wouldn't be a bad idea to get it changed (following link provided for reference) https://www.partshub.ca/acura-el-1997-2000-rear-bumper-reinforcement-bar-ho1106142n-oem-71530s01a00zz.html
-2 Front Windows have a bit of difficulty closing (really just means you have to wait a bit extra for it to close, but the rear windows and the sunroof work like a charm)
-Leak in trunk, underneath spare tire cover. (There was a bit of mold before, but after airing it out, and wiping it down with Lysol, all that really needs to be done is either be covered with a towel and changed every now and then (about once a week, if you leave it for a lot longer it will become moldy) or just find some seal spray and coat the inside of it)
-Air Conditioning doesn't blow out cold air (Hot air and just regular air to get rid of fogging and warm up the car work just fine though)
If you have any questions please let me know!
Take steps to make your Kijiji transactions as secure as possible by following our suggested safety tips. 
Read our Safety Tips