REALLY COOL !!NEW: Spiderpodium (Your Gadget's best friend)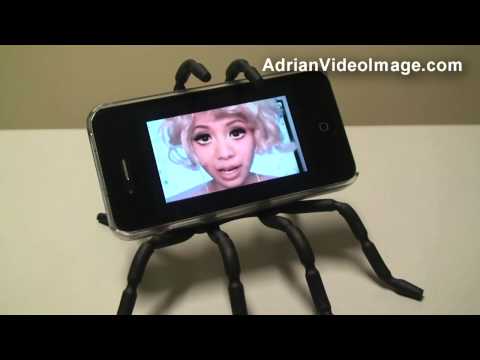 Description
NEW: Spiderpodium (Your Gadget's best friend) - $15 (Compatible with most Handheld Devices)
Spider Podium (Bike): https://www.youtube.com/watch?v=2Vr9WFlsrG0
Spiderpodium (Phone) https://www.youtube.com/watch?v=EB0svZn1ITU
http://www.google.ca/search?q=spiderpodium&hl=en&tbm=isch&tbo=u&source=univ&sa=X&ei=aux_Ua2eD4bSyAG8x4DIDA&sqi=2&ved=0CEgQsAQ&biw=1680&bih=910
Color available : Black, Red, Blue, Purple, Green
Designed with today's portable handheld consumer electronics in mind, the 'take it everywhere, use it anywhere' Spiderpodium portable dock & podium is a universal, multi-purpose, gadget grip, holster, dock and display podium which is compatible with most all compact handheld devices including smartphones, portable phones, portable movie players, mp3/4 players, gaming systems, SatNav's, camcorders, portable projectors, compact camera's, e-readers and more!
Product Features: - Matte Black Colour - Advanced 'SoftTouch' Rubber - Lightweight and Strong - Portable & Folds Flat for Travel - Fully Flexible - Compatible with most Handheld Devices
Please browse thru below website for great deals..
https://plus.google.com/photos/113300793030001975847/albums/5703188207883385793?banner=pwa&authkey=CLSfxP-P7NW-kgE
or
Click "view poster's other Ads" at the right top corner of this Ad.
NEW TOYS INCLUDES:
Christmas Train Set Different kind of Remote Controlled Cars Dress up Chest Ride On Toys Fisher Price Toys Little Tikes Toys Hot Wheels Hello Kitty Kitchen, Dressing table and stools, Cafe... Star Wars Train Sets Transformers K'nex Disney Cars, Toy Story Bed Tent Disney Princess, Hello Kitty EZ air bed Playmats / Truck with race cars Dolls and MUCH MORE .....
I don't have a store and all toys must pick up in Mississauga. (Thomas Street and Glen Erin Drive.)
Please email contact number for pick up arrangement.
Thanks :)
Take steps to make your Kijiji transactions as secure as possible by following our suggested safety tips.
Read our Safety Tips