EYELASH EXTENSION TRAINING - Learn it All - Classic and Volume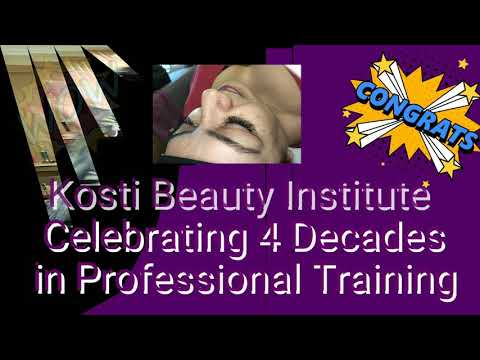 Description
Become a Certified Eyelash Extension Master! Learn Classic one by one grafted lashes, AND Mega Russian 3D, 5D and 7D Volume eyelashing!
Get certified from KOSTI BEAUTY INSTITUTE - celebrating 4 decades Eyelashing Expertise in Educating!
2 and 3 day trainings covering 12 Aspects from the Professional Eyelash Extension business manual. Successfully added EYELASH EXTENSION TRAINING 3 DAY in both CERTIFICATES: CLASSIC AND VOLUME-Learn it All 2 weekend of training techniques in Classic, + Volume, Mega 3D 5D and Rusian with Kosti Beauty Institute Professional Courses at 4 different times:
Business manual included on classic and volume extensions, customer prep and postcard, infill, marketing, building a clientele and social media, and how to build a good photo portfolio and promotions.
Become a Eyelash Extension Expert – advance your skills or start as a beginner! Earn your Certificate in Classic Eyelashes or add-on 2nd certification in Advanced Volume 3D – 5D Russian Volume Lash Expert!
Kosti Beauty Institute director Colleen Kosti is award winning, international educator and competition judge.
She has been doing Eyelash Extensions for more than 4 decades and has expertise in all types of eyelashes and how to make your own MeGA Russaian volume LASHES
NOW local training is available RIGHT in your own city! Request Kosti Beauty Institute school to come to your city or small town and we will get you professionally certified and on your way to earning extra income in an enjoyable beauty industry!
Or come to the Kosti Beauty Institute in Windsor Ontario. Semi-private training
KBI GRADUATES are successful Lash Stylists – we provide the training you need and the know-how's on everything from building a good clientele, keeping them, Social Media & marketing tips, business set up, sanitation, refills, and continued support through our free APP KBI EYELASH CHANNEL with training updates!
As an educator to beauty professionals for 4 decades KOSTI BEAUTY INSTITUTE will help you start your enjoyable new service and earn extra income in Lashes!
WEEKEND TRAINING DATES:
- Saturdays / Sunday 10am - 5pm or Sundays / Monday - WEEKDAY TRAININGS NOW AVAILABLE: please contact to schedule a weekday session.
UPCOMING COURSE SCHEDULE (When you Register, choose 1st starting date for Class #1 Eyelash Theory and Client consultations and Classic application procedures, then the 2nd Practical class will be the following day, with the 3rd Volume Class the following weekend or select from our monthly Volume schedule. )
*** Call to inquire for a private class, or set a customized schedule. ***
CLASSIC EYELASH EXTENSIONS 1 day is on special for $850 with Essentials starter kit.
- VOLUME EYELASH EXTENSIONS 3 day - learn it all 2 certifications as Lash Stylist and Master Volume lash extensions certificates $1800 includes Deluxe Lashing Kit with supplies to complete 60+ sets of lashes.
CLICK this link to register and select your preferred date for the full 3 day training Eyelash Extension class; Register online and complete payment by credit card or PayPal at: https://spiritofexcellence.as.me/eyelashtraining
For more information visit our Instagram @KBI.eyelashes#Eyelashextension #training #windsor #ontario
#canadian #expertsineducation #newcareers #lushlashes #deluxekit is included! Start #lashing for #SPRING eyelashes - learn in 2 weekends!!
NEW SPECIAL TRAINING - PRACTICAL - ALL IN CLASS - 2 STUDENTS - 1 TEACHER or request Private Instruction - 1 on 1 inquire for the details. +1 226-787-3328 Certification is awarded upon successful completion - Classic Eyelash Extension Stylist & Volume Master Lashing Stylist can be earned as well.
#KOSTIBEAUTY #Eyelashes are #lush, #vegan and #mega
Kosti Beauty Institute is located behind;
The Water's Edge Event Centre, 2879 Riverside Dr., E., Windsor (formerly the church "Our Lady of the Rosary" at corner of Drouillard Rd., & Riverside) Phone is: 226-787-3328
Our entrance is 229 Cadillac Street, WINDSOR N8Y2S8 - directly across from the Ford Co-generation plant gate Turn from Riverside Drive at the east side street Cadillac We have our own parking lot from Cadillac St, behind the church and on the south side of our Institute.
Take steps to make your Kijiji transactions as secure as possible by following our suggested safety tips.
Read our Safety Tips