Whole Body Vibration Machine Buyers Guide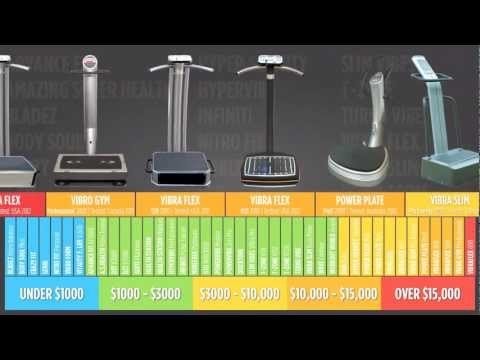 Description
Are you considering a whole body vibration machine ? Interested in learning more about the benefits of vibration exercise and therapy? We're here to help with our complimentary consultation.
Would you like to learn how to identify a vibration plate that produces the energy necessary for the beneficial out comes claimed by all?
Watch our very revealing Buyers Guide video, get it FREE; the only one of its kind where independent vibration analysts confirm the real performance of a variety of vibration platforms and weigh in the results against the actual global research. The facts might surprise you. Need more details on the outcomes, contact us directly for your own copy of this exclusive report.
We're here to help you better understand whole body vibration therapy vs. accelerated resistance vibration training. And the different types of vibration platforms offered in the market place. You're going to learn, why you should NOT base your decision on "Best Deal" alone. You'll see for yourself that most advertise "Fake Specs" in order to appear an equal to true, high energy platforms.
Then try before you buy!
A favorite story of Whole Body Vibration companies is Astronauts using vibration machines to counteract zero-gravity effects on muscle and bone. But are Astronaut-level results what to expect from every machine having space shuttle pictures on its website?
While the machines Astronauts use produce upwards of 14G (14 times Earth's gravity), A global effort of engineering tests reveal that most vibration machines struggle to get past 4G, giving the false impression of what 'TRUE' Whole Body Vibration really is.
Which whole body vibration machines failed to generate the optimum frequencies and resistance loads necessary to produce the outcomes matching those platforms actually used in the scientific literature.
If you've seen Whole Body Vibration machines being sold at flea markets, expos, shopping malls and on TV you've likely heard impressive claims being made about them and wondered… are they too good to be true?
You may have questions like "will it really help me lose weight, make me stronger?" Whatever your goals are, they will be harder, if not impossible to reach if the machine you buy can't provide the level of stimulation you were led to believe it could. Using such a machine could give results that are a lot less than what is possible for you.
For example, imagine buying a 5kg dumbbell, putting it on some scales and finding it really only weighed 2kg. That's less than half the muscle stimulation you wanted and paid for.
Low G's to Survive; High G's to Thrive..... Try before you Buy!
This becomes important information to be aware of before buying a vibration machine as most vibration machines are not capable of producing high G-forces and are really only suitable as massage machines. This includes all machines for under $1000 and most machines up to $3000
G-force is the most important factor when it comes to stimulating the body to improve with Whole Body Vibration. If you want maximum results with minimum time and effort your aim should be to use the highest G-forces you feel comfortable with.
Before you make your purchasing decision; experience as many different whole body vibration machines as possible. We give you that opportunity in a single location. The time spent will be well worth your while, as no other such opportunity exists here in Ontario. This includes high and low resistance pivotal, lineal and tri plan style machines. Contact use directly to learn more, peter@hypervibe.ca or call, 905 906-8660 to arrange an appointment to visit our Hamilton home office & showroom, to dramatically shorten your learning curve! So you too can make an informed decision when purchasing a 'TRUE' whole body vibration machine.
Advocates of ethical and honest marketing for the understanding and growth of the whole body vibration industry.
Take steps to make your Kijiji transactions as secure as possible by following our suggested safety tips.
Read our Safety Tips