Online Personal Training - Live via Zoom ($30)
84 Sovereigns Gate, Barrie, ON L4N 0Y9, Canada
(View Map)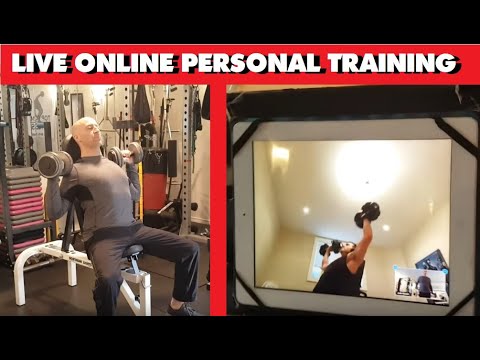 Description
Stuck at home? Gym Closed? I'm now offering 1 on 1 online personal training sessions (using the Zoom interactive video platform) to help you keep up with your workouts at home. Your program will be personalized according to your goals, what equipment you have available, and any injuries or limitations you might have.
If you're interested just contact me to let me know what days / times work for you, your specific goals, and if you have any exercise equipment at home you can use.
If you don't have any home workout accessories, no problem - I can design a challenging training program using body-weight only exercises. However, I do recommend purchasing a resistance band if you don't already have one; you can pick one up at Walmart or order on Amazon, such as: https://www.amazon.ca/Pull-Assist-Premium-Stretch-Resistance/dp/B01LLYK3PU/ (red or black).
1 on 1 Online Training Sessions (via Zoom) are $30 (50 minutes). Contact me to get started by replying to this ad or texting 416-931-0800
The Benefits of online coaching include:
1) The flexibility to train with me regardless of where you are located, anywhere worldwide (with an internet connection), and the convenience of training in your own home. You can use your phone, tablet, ipad, notebook, laptop, or another device (I recommend a larger screen).
2) I personalize your program related to your individual goals, needs, schedule, and what equipment you have access to (if any). I can design a challenging program for you whether you have a full home gym, just a few bands, or only using body-weight exercises.
3) I will demonstrate the correct form for all exercises and provide technical correction and cueing to ensure you are performing the movements correctly to achieve greater results while avoiding injury.
4) When you train with me online I will motivate you while offering you accountability to ensure you stick to your program and train with the appropriate intensity to make progress.
5) Rather than being stuck sitting at home, raiding the fridge, and gaining weight while we ride out this lock-down situation, you will be losing body fat, increasing muscle, moving your body, improving your fitness and flexibility, and preserving your sanity!
6) I can provide you with workouts to perform on your own between our sessions, as well as nutritional guidance.
Text 416-931-0800 or email josh@top-form-fitness.com
Take steps to make your Kijiji transactions as secure as possible by following our suggested safety tips.
Read our Safety Tips