Results Based Personal Training - Millenium Place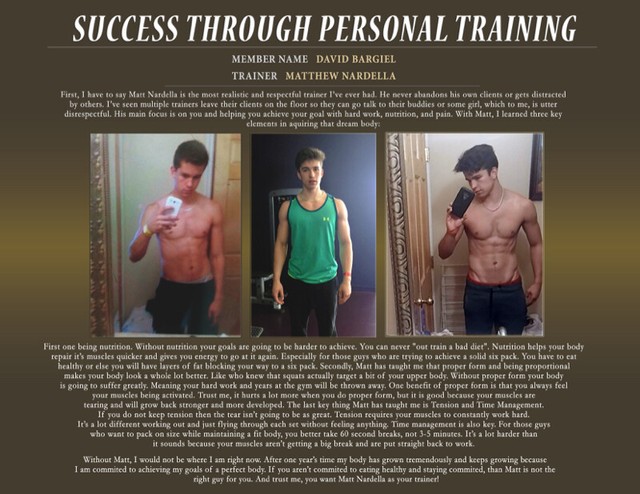 Description
Hello Edmonton and Sherwood Park,
Let me introduce myself! My name is Matt Nardella. I am a registered Kinesiologist and certified Personal Trainer. I have been a certified Personal Trainer and working with individuals on their health and fitness goals for over 10 years. I became certified in November of 2010 and since then been working in the industry full-time. I am also a recent graduate from the University of Alberta with a Bachelors of Kinesiology degree, majoring in physical activity and health. Exercise and healthy living are certainly my biggest passions, and what I have dedicated my lifework toward. My main objective when working with people is to pass on what I have learned and teach people how they can utilize exercise and healthy living to experience happier and healthier lives.
As we attempt to move forward progressively through this difficult period the COVID-19 pandemic has created, I am looking for those who are ready to make a change. If you are ready to change with your health and fitness, then you have come to the right person. Personal training is a win-win relationship. What that means is, if you are successful in accomplishing the goals we set out, then I am successful as well. So I want you to be successful! I want to be the person to help you get to your goals. I'd like to meet you for a complimentary consultation to determine if my training would be a good fit for you!
My fitness training practices involve scientifically backed training protocols that are proven to help people lose bodyfat, gain muscle mass, gain physical fitness (strength, endurance, power, to name a few), and increase their energy levels. We will also work on general nutritional improvements and evaluate your overall lifestyle to expedite the process of becoming healthier. Everything I do with my clients is methodical and follows a step-by-step process to reach their goals effectively and sustainably.
The primary gym that I will be conducting my personal training out of is the Millenium Place Recreation Centre located in Sherwood Park. The address is 2000 Premier Way, Sherwood Park, AB, T8H 2G4. I have a home training Zoom class every weekend that clients are welcome to join as well and can be further discussed in the consultation.
I have acquired a range of different accreditations over the years, particularly: - University of Alberta: Bachelor of Kinesiology Degree with standing membership the Alberta Kinesiology Association - CanFitPro: Personal Training Specialist - CanFitPro: Nutrition and Wellness Specialist - PICP: Biosignature Modulations - GoodLife Personal Training institute (GLPTI) - Darby Training Systems Level 1 Certified Trainer: - Postural Anatomy Specialist - Assessment and Corrective Exercise - Program Design and Periodization
I am willing to train anyone and welcome older adults who have chronic medical conditions trying to improve their health. I am in this to help people live healthier, happier lives, because that's exactly what exercise has given me. Thank you for taking the time to view my services. Please feel free to contact me with further questions.
Take steps to make your Kijiji transactions as secure as possible by following our suggested safety tips. 
Read our Safety Tips