SUPERIOR DREADLOCKS LIMITED TIME SPECIAL: SAVE 10%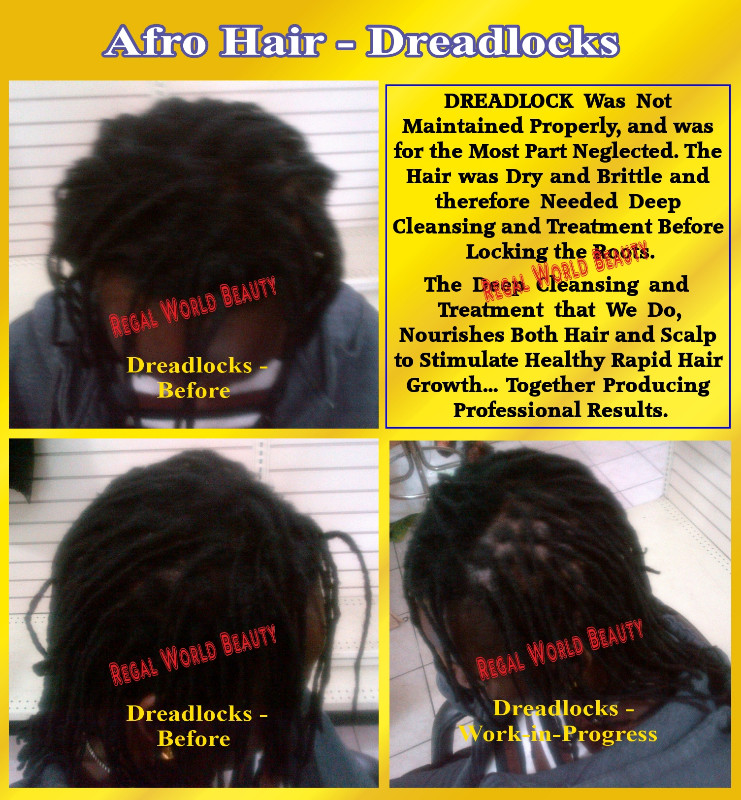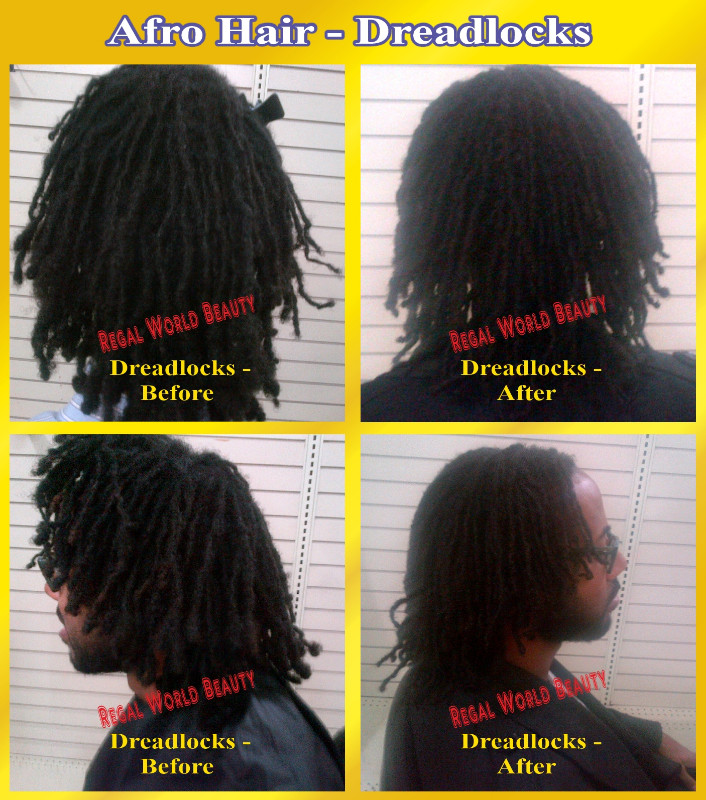 Description
SUPERIOR DREADLOCKS STARTUPS & EXTENSIONS, REPAIRS & MAINTENANCE *** LIMITED TIME SPECIAL: SAVE 10%. *** FROM 2018 March 28 TO April 30. *** *** MENTION PROMO CODE *** RWL20180430 ****
REGAL WORLD BEAUTY & NATURAL HAIR CARE 1217 St. Clair Avenue West, Suite #104BLL, York, ON. M6E 1B5 (Southwest of Dufferin, opposite BMO Bank of Montreal)
Preferred Contact: Please call AUNTIE ERNESTINE at 647-828-7204 (Work Cell), or 416-840-0828 (Work Line) for consultation and/or appointment.
DREADLOCKS / DREDLOCS
WELL EXPERIENCED LOCKTICIAN -DREADLOCKS SPECIALIST- Over 20 Years of Experience in Natural Hair Care! Excellent Workmanship is Our Minimum Standard!
NEW START UP: We do complete DREADLOCKS from scratch with your own hair. If your hair is not long enough and you want it longer, we can extend it with HUMAN HAIR just like your own.
ATTACH EXTENSIONS: We attach DREADLOCKS extensions to your LOCKS, or to your new DREADLOCKS to give you longer looking DREADLOCKS. The attachments are completely INVISIBLE (it's done in a way that you can not tell where the pieces are joined together). WE DO NOT USE GLUE AT ALL!
DEEP CLEANSING & TREATMENT: We provide DEEP CLEANSING using NATURAL PRODUCTS and POWER WASH. The POWER WASH MASSAGES the SCALP and help remove any build-up in the HAIR & SCALP. Then we STEAM your hair for 45 minutes to 1 hour with a NATURAL POWERFUL TREATMENT COMPOUND that INFUSES NUTRIENT DEEP into HAIR & SCALP. The TREATMENT REMOVES & PREVENTS DANDRUFF and ITCHY SCALP, and makes the HAIR SOFT. It also PROMOTES RAPID HAIR GROWTH while it PREVENTS your hair from BREAKING.
MAINTENANCE & REPAIRS: We Neatly LOCK the ROOTS and fix messed-up LOCKS (that were done elsewhere): We SPLIT TWINED (or Co-Joined) LOCKS; Resize THINNED-OUT and FATTENED/OVERSIZE LOCKS; REMOVE LINTS and UNSIGHTLY BUILD-UPS as well as DANDRUFF.
Preferred Contact: Please call ERNESTINE at 647-828-7204 (Work Cell), or 416-840-0828 (Work Line) for consultation and/or appointment.
NOTE: The correct Postal Code is M6E 1B5 (Google has it wrong and always wrongly change it when it is corrected).
We also do WEAVES, EXTENSIONS, AND TWISTS of all kinds & styles for all types of HAIR, but we DO NOT use any kind of GLUE at all. Our WEAVES have NO GLUE, NO LUMPS; and NO BUMPS - JUST LOOKS and FEELS SO NATURAL!
Take steps to make your Kijiji transactions as secure as possible by following our suggested safety tips.
Read our Safety Tips