Wheel Loader / Excavator Portable Vibratory Soil Rock Screener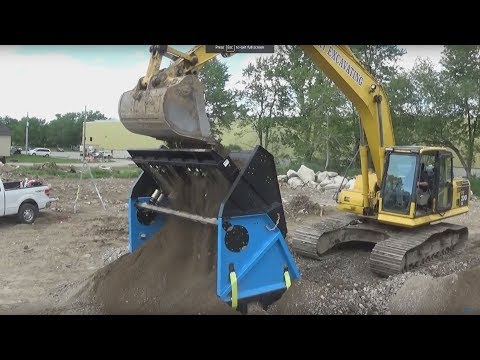 Description
DeSite SLG 108VFRB Portable Vibratory Screener
Screen Deck is 6ft long x 10ft wide SLG 108VFRB screener weighs 5300 lbs
Designed to be fed with Skidsteers Excavators Backhoes Wheel Loaders
Priced at only $19,200cdn. The SLG 108VFRB is the #1 selling, most affordable, portable vibratory screening machine on the market.
The 108VFRB will screen and recycle soils, sand, compost, gravels, rock, crushed concrete and ground asphalt.
Hourly screening production of the SLG 108 will range from 30 to 60 yards per hour, depending upon mesh size, machine size feeding the screener and material moisture levels.
The SLG 108VFRB comes fitted with a 3/4 x 4 elongated mesh that makes a 1/2 inch product. We also offer many other mesh sizes to make many other products and product sizes. We offer meshes in both elongated and square pattern. Our meshes go down as small as 1/8 inch for a 1/16 product all the way up to 4 inches.
Mesh change out to another size takes only 40 minutes
The SLG 78VFRB requires only a 5000 watt generator to power up both of the 110 volt (3600 rpm) Dual Eccentric Vibratory Pack. Can also be powered with 110 volt ( 20 amp) single phase land power.
The SLG 108VFRB comes with our "Tilting Screen Deck". The operator, while feeding the screener can change the deck slope from 45 to 30 degrees.
The SLG 108VFRB comes with our "Tilt Open Feeder Deflection System" The feed deflector works to control material flow while forcing the material to the top of the screen deck to begin the screening process.
The 108VFRB screener comes with fork pockets forks and available "Bucket Transport Lugs"(optional) to move the screener onsite. The 108VFRB can operate efficiently where access and room is tight.
The 108VFRB can be supplied with our chain tie down hooks for easy transport.
The SLG 108VFRB screen deck suspension has only 2 grease points. Our "Low To No Maintenance Design" costs less to operate than any other screener on the market.
"Buy With Confidence" 3 Year Machine Frame and Structure Warranty 1 Year on Electrical Component Warranty
Call us "Toll Free" at 877-254-7903 for a delivered to your door price.
Screening independence is so affordable with a DeSite SLG Portable Vibratory Screener.
Visit us at: www.idmcabc.com
DeSite SLG Screeners Designed to Perform Built To Last
Take steps to make your Kijiji transactions as secure as possible by following our suggested safety tips. 
Read our Safety Tips