CUSTOM 535B CAT GRAPPLE SKIDDER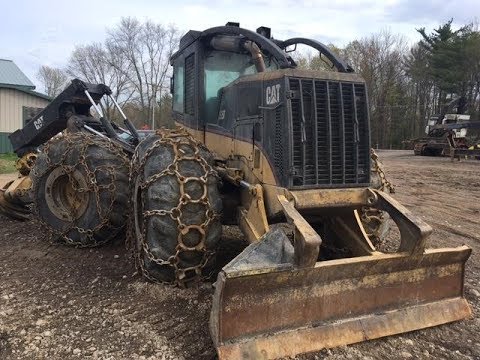 Description
ATTENTION: LOGGING / LAND DEVELOPING COMPANIES/ FARMERS ETC.:
Coming Up Soon For Sale,
*Customized 2006 535B CAT Grapple Skidder (200-260hp) *Brand New: Professionally & Completely Rebuilt Original 3126DITA Turbo Diesel Engine (TOROMONT CAT in VAUGHN, ON.) *3yr or 5000hr CAT Warranty on CAT Engine *Professionally Dipped & Cleaned Radiator also Completed by (TOROMONT CAT in VAUGHN, ON.) *Customized Interior (Exotic Crocodile Leather) Provided by HSE Crocodile Farms in Australia for "Operator Comfort & Durability" *Custom Stereo *New Windows (All Around) *Custom Industrial Jet Gloss Black Paint *New Hydraulic Hoses "Very Expensive" *New CAT Filters (Every Filter on This Machine Is New) *Custom Toolbox Built On (R) Side of Blade *CB Installed "Communication WIth Other On-Site Workers" *4 Brand New 30.5 Tires (or) We Can Install 35.5 Floatation Tires. NOTE: (This Machine Will Fit Dual Wheels on Front & Rear Axles)! *New Claw Chains for the Front Tires And Rear Tires *Fresh Oils in the Front & Rear Axles (CAT SOS Fluid Analysis Reports that Axles & Diffs are 100%) *New Fire Suppression Valves & Plumbing *Approximately 19Tons of "MONSTER" *New Clutch Plates In Grapple *All New Fluids Throughout this Entire Machine *Engine Oil Test Kits to be Used for Sending Samples into CAT for Warranty Purposes (A Must) *Comes with a Full Tank of "Clear Diesel" (Not Dyed Diesel) *New A/C Pump *New Starter *New "CAT Turbo" *New Muffler & Accessories *HSE Will Install a Brand New Power Winch Valued at Over $70,000.00 (Upon Receipt of Initial 60% of Full Purchase Amount Deposited & Cleared by RBC)
*Pictures Depict What This Machine Once Looked Like - At The Time When HSE "Imported" This 2006 535B CAT from "Constantia, New York" into "Ontario, Canada" & - Currently What It Is In The Process of Looking Like!
"DYNO TESTED & COMPLETED" on Thursday August 24th, 2017 at: "TOROMONT CAT" *Certified by "TOROMONT CAT"
* Our Cylinders are Repacked by "TOROMONT CAT". NOTE: All 8 Dual Arch Bearings are being Replaced with "NEW Genuine CAT Bearings".
* All "CAT" Branded Fluids are Fresh. Differentials Axles, Radiator, Engine & Hydraulics!
*"CAT" has just announced to "HSE" that they are giving us a 20K Credit - to keep our Project Moving Forward! AWESOME, SO AWESOME...
* Gloss Jet Black Paint is Industrial Strength purchased from "FASTENAL"
Our Project is "Truly An Amazing Experience". This Engine Underwent 3 Straight Hours of DYNO. "MONSTERS" Heart Looks Fantastic... NOTE: This Engine Is Now Flawless & Completed by "CAT".
(Priority Given to Full Payment Provider)! NOTE: Deposit(s) Must Come with a Carbon Copy of a Bank Draft in Order to Prove that (Your Company) &/or but Not Limited to (You the Private Purchaser) "Is & Can Fully Cover the Full $325,000CAD Amount" for This Particular Machine (Within 30 Days). Deposits Will GUARANTEE that This Machine Will Be PAID FOR IN FULL (Within 30Days). No Money Back Guarantee for any Failure To Provide Full Payment to Purchase This Machine Within the 30 Days Allowed For This Purchase.
***Serious Inquiries Only***
Price Includes Shipping. *Exporting Our Machine is "No Issue" for HSE*
Faithfully;
Mr. Corrie West President & Director HEAVENZ SOLDIER ENTERPRIZE Shop: 705-357-1638 E: heavenz_soldier_enterprize@live.ca E: corriewest_businesstech@live.ca Web: http://heavenz-soldier-enterprize.business.site
Possibility of "NEGOTIATING" The Price, If You Have What It Takes To Make This Business Decision!
Take steps to make your Kijiji transactions as secure as possible by following our suggested safety tips.
Read our Safety Tips