Red Rhino Crusher 7000 series/ 3 way Screener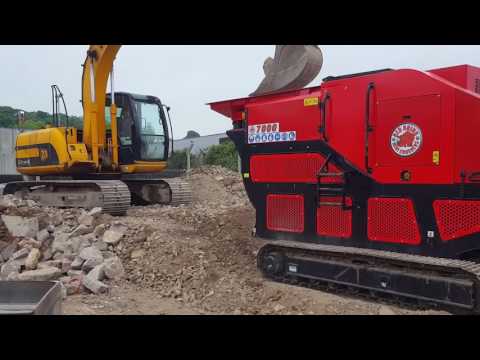 Description
7000 plus They are very simple to operate and incredibly cheap to run. The 7000 Plus simply cannot be matched for its reliability, performance and versatility by any other product on the market. The wireless remote control system means safe operation of the crusher from the safety of an excavator or loader. Simply drive the crusher into position, select the desired output size, start the crusher and conveyor system and start to crush up and crushing in less than 5 minutes.
- Dimensions o Length: 7250mm (24ft) o Width: 2200mm (7.3ft) o Maximum height: 2800mm (9.2ft) o Loading height: 2300mm (7.6ft) o Weight: 10000kg (22047lbs)
- Standard features o Jaw aperture of 700mm x 400mm o Output size choice from 15mm to 120mm o Deutz 70hp air cooled diesel engine o Fuel consomption approx. 10 litres per hour o Output can be up to 45 tonnes per hour o Wireless remote-control system for all functions
What can it crush?: - Bricks - Concrete - Glass - Slate - Granite - Stone - Ceramics - All aggregate products
3 Way Screener
- Dimensions (operating) o Length: 5.58m (18.4ft) o Width: 3.31m (11ft) o Height: 2.19m (7.2ft) o Weight: 2.8tonne (6173lbs)
- Dimensions (travel) o Length: 4.29m (14.1ft) o Width: 1.88m (6.2ft) o Height: 2.39m (7.9ft) o Weight: 2.8 tonne (6173lbs)
- Standard features o Feeder hopper o Choice of screen meshes o Remote control o 80 tonnes per hour output (depending on application) o 18.5kW water cooled diesel engine o Fuel consumption approximately 4 litres per hour
- This self-contained plant is complete with a receiving hopper, double-deck screen, three-cylinder diesel engine, three stock-piling conveyors, all mounted on a track chassis with remote control.
- It is designed for customers who need three screened products and is ideal for landscaping, golf courses, crushed rock, hard core and beach cleaning. The screened material can be separated exactly where it is needed on site. Oversize and undersize contamination can be removed to create useable finished products from waste.
- The compact dimensions and low weight mean it can be easily transported and the conveyors fold hydraulically so the plant can be set up in minutes.
Red Rhino Mini Crushers come in various sizes to fit your crushing needs. Full product list go to: https://www.redrhinocrushers.com/products/ (or see table in pictures).
For more information on Red Rhino Crushers call Treadstone Machinery at: 403-738-4860 or 403-634-4922.
Take steps to make your Kijiji transactions as secure as possible by following our suggested safety tips.
Read our Safety Tips