New RC Rally Sports Car Brushless Electric RTR 4WD LIPO 2.4G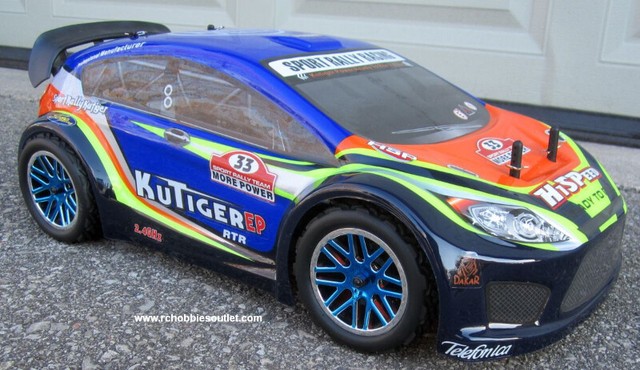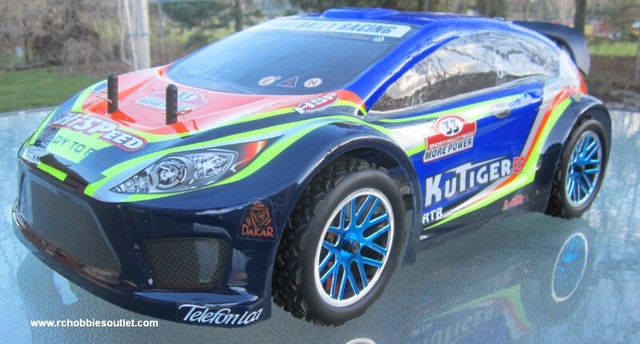 Description
New 1/10 Scale Brushless Electric RC Sport Rally Car
Get into serious club racing or just have fun at the park. Straight out of the box this great-looking RC Sport Rally Car is very competitive while the fully adjustable suspension lets you fine tune to the track specs if you wish.. This new HSP Pro Version Brushless Electric RC Sport Rally Car is a whole new animal with the addition of the Very Latest HSP Brushless Motor, and Hobbywing's latest 60 Amp Fan Cooled Waterproof Brushless Electronic Speed Control and a powerful 7.4V 3500mah LIPO Battery - this new model is seriously fast and competitive.
This Rally Spurts Car also makes an excellent gift for yourself or for someone special in your life.
Brutal wheel yanking power will be unleashed when you squeeze the included Pistol Grip 2.4G Controller. The Pro Version is our most powerful 1/10 Scale Electric RC Sport Rally Car to date, and its built tough to take it. Based on the original Pro design, this Pro Version has many familiar and new features like All Metal Oil Filled Shocks, Fully Proportional Braking, Forward, Reverse, Full Ball Bearings and Specifically Designed Rally Tires, just to name a few.
Whether you are a professional RC racer or you just want to blow off your friends cars, the new Pro Version now comes the very latest 98% efficient HSP Brushless Motor. Not only does this motor give the RC car a whopping increase in speed, it also screams around the track much longer due to the fact the brushless motor is 98% efficient compared to only 48% for brushed motors.
The new 2.4 Radio means longer range, no crystals, no external interference and no interference from other cars. The intelligent digital radio automatically switches between different channels so you will never have a car on the same channel.
Everything is provided with this great-looking electric RC radio control Sport Rally Car, -- just add 8AA batteries to the transmitter and you can literally go out and start racing. With its 50 AMP ESC, you can even upgrade to a 11.1v (3S) 25C LIPO battery for even faster speeds.
This RC Sport Rally Car is 100% assembled straight out of the box.
Please see our website for more details http://www.rchobbiesoutlet.com/rc-electric-cars
Features:
1/10 Scale HSP RC Sport Rally Car Alloy Upper Deck All Metal Coil Spring Oil-Filled Adjustable Shock Absorbers Ready To Run 4 Wheel Drive via metal shafts and Cups Front and Rear All-Metal Gear Sealed Differentials Large Foam Bumper to help protect against Damage Mid Mounted 7.4v 3500 mAh 30C LIPO re-chargeable Battery LIPO Battery Charger Quick Change Battery Holder New HSP 3300KV High Power Brushless Race Motor New 50 Amp Hobbywing Programmable Waterproof Brushless Electronic Speed control with fan - Forward / Reverse / Brake Electronic Speed Control Steel Motor and Spur gear New Front and Rear 5 Screw Differentials with Bevel Gears Full 4 Wheel A-Arm 100% independent Adjustable Suspension Adjustable Height Adjustable Toe In, Toe Out New Even Lighter Smaller Front and Gear Boxes MT-X4 Sports Rally Tires with stunning 2-Tone Chrome Rims Strong Rigid ABS Monocoque Chassis Hi Torque 6KG E60001 Waterproof Steering Servo Factory Installed Server Saver Spur gear cover
2 Channel 2.4G Radio Controller 3 Channel 2.4G Receiver Pistol Grip North American Specifications Steering Trim Throttle Trim
Complete Instructions for RC car and radio included
This RC Car comes with a 12 month warranty against any manufacturer defects. Please contact us if you want to take advantage of this great special Kijiji offer.
We stock a full range of spare parts, and also have a number of other great RC cars, RC trucks, RC Buggies, RC Crawlers, RC boats, RC Airplanes, RC Drones for sale at discount prices on our website www.rchobbiesoutlet.com
Fast, low cost shipping is available. Just order the RC product you want on our website www,rchobbiesoutlet.com and we will ship it to you.
Additional Options
The following services are also made available by this seller. Please reach out to them for more info as there may be additional costs.
Willing to ship the item

Offers curbside pick up

Offers cashless payment
Take steps to make your Kijiji transactions as secure as possible by following our suggested safety tips. 
Read our Safety Tips