7132 Highway 7 Gaetz Brook NS B0J 2L0 is SOLD!
7132 Highway 7, Gaetz Brook B0J 2L0 NS, Canada
(View Map)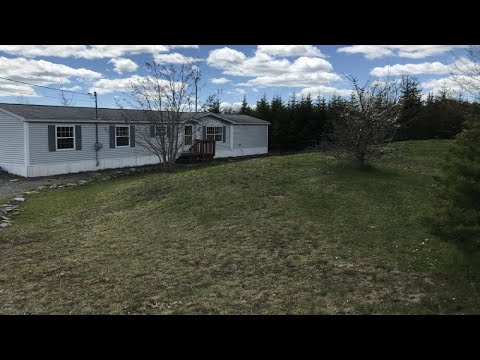 Description
SOLD! This happy seller saves $6,215.75 in commission fees on our FLAT FEE PROGRAM! We call this FULL Service with $avings! What would you do with the money you save?
Situated on 1.65 acres close to a highway exit, this 3 bedroom 2 bathroom home is ready for a new family! Enjoy your morning coffee on the back deck and quiet evenings around a camp fire. This home features a primary bedroom with double closets and 3 pc ensuite bath at one end of the home, and the other two bedrooms at the other end of the home for privacy. The spacious kitchen features a large island and patio doors to the back deck. The kitchen and living room both feature vaulted ceilings. The well pump and pressure tank have recently been replaced (May 2021) and the drilled well has a new cap. The home is freshly painted and both decks are newly stained. Two sheds provide storage for tools and toys. Come see for yourself! Accepting offers until Friday May 21 at 3 pm.
Download our detailed brochure here. https://drive.google.com/file/d/1Q9K9WmcwnLF_-tG8gFe5RJtmbdzQtCn8/view?usp=sharing Download our Feature Sheet here. https://drive.google.com/file/d/1oYqzjhKbQs0XGWaWuWubKbkY_3DfYv6n/view?usp=sharing
Check out the property website! Copy and Paste into your browser: https://7132Highway7.TheBestListing.com
Attention Buyers – Assist 2 Sell has full time licensed Buyer Agents available 7 days a week to show you homes. Call Assist 2 Sell today to learn how Home Buyers can SAVE MONEY purchasing a home through Assist 2 Sell's Direct to Buyer ™ Program which potentially saves thousands of dollars.
902 446-3113
We are open 7 days a week
http://www.AsLowAs2995.com
Technology has changed the way real estate is marketed and sold. The traditional brokerage model is outdated.
Real Estate Agents will tell you that a 5% commission is a reasonable fee to sell your home. But what they do not discuss is that a 5% commission may be 50%, 75% or even 100% of the equity a home seller may have in their home! Do NOT let high commissions rob you of your home equity.
Buyers and Sellers want the full service of a real estate brokerage but do not want to pay the outrageous fees.
Assist 2 Sell is a full service discount real estate brokerage. We charge a low flat fee paid at closing. Since 2001 our successful FLAT FEE Direct 2 Buyer PROGRAM has saved Metro Home Sellers over $19 Million dollars in commissions.
Before you pay 1%, 2%, 3% or hire a For Sale By Owner Company and pay up front fees or finance the fees with no guarantee that your property will sell, call Assist 2 Sell to find out why our FLAT FEE marketing program is so successful! All listings are placed on the MLS® and advertised on Realtor.ca and all major Canadian, and applicable US and International Real Estate advertising sites. We utilize state of the art marketing technology to market and sell our properties. You can pay more…but you do not have to!
Sold Seller Saved amounts are based on comparing what the seller paid including HST to 6% plus HST. Any comparisons to a % commission, such as 6% are for illustration and comparison purposes only. Commissions may be negotiable and are not set by law.
Take steps to make your Kijiji transactions as secure as possible by following our suggested safety tips. 
Read our Safety Tips