Fashion Jewelry Sarah Coventry Avon Collectible Watch 27PC Mixed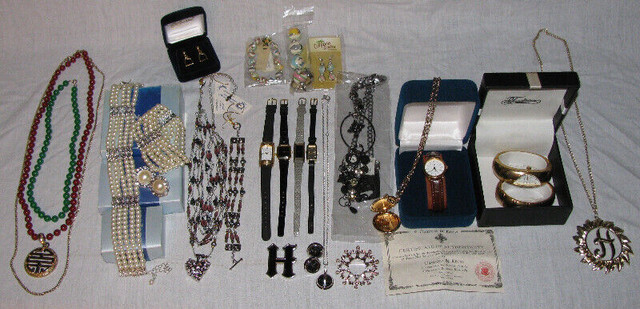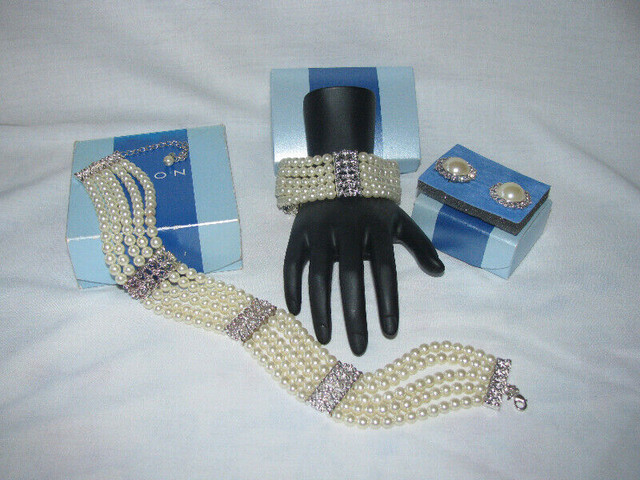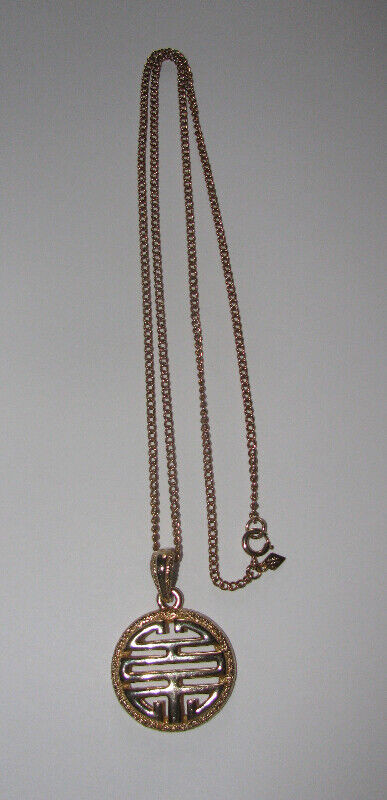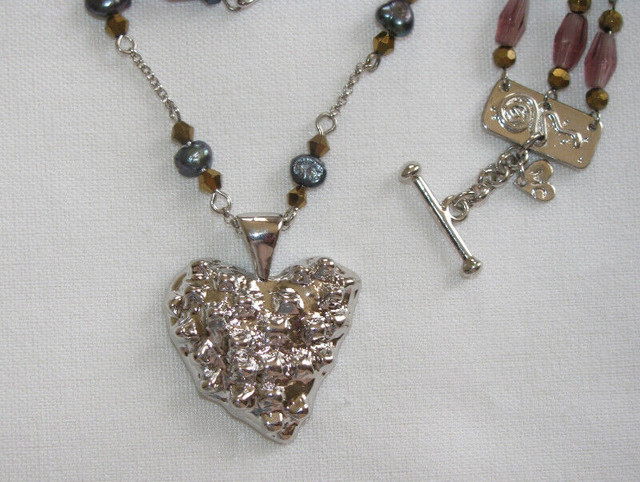 Jewellery Type

Other Jewellery
Description
This is a great lot of mixed fashion accessories...part of a huge lot I purchased from an estate sale. All but the initial "H" brooch pin is signed and all but it, the "H" pendant & a couple of the watches are unworn...any issues is noted in the description below. Several pieces are still in their original cases/boxes & packaging. None of the watches are running & probably just new batteries but, having said that, extent of repair is unknown. You get...
4pc beaded necklace & chain set with Asian-inspired medallion pendant is from the mid 1970's & marked Sarah Coventry Canada (the line went international sometime in the 1980's). The name of the design is "Fashion Flair" and its quite rare to find the complete set, especially, in near new condition showing no wear & no issues to note. The green beads are 17", rust/red colour are 24" & the goldtone chain is 30", heavy, removable, medallion pendant is 2.25" (including the thick bail) x 1.5" in diameter. Both the chain & pendant are marked, the strands of beads aren't!
3pc faux pearl choker necklace, button earrings (clip) & stretch bracelet set in original boxes is from Avon's 2003 "Elegant Pearlesque & Rhinestones" collection. It looks unworn but, upon close inspection, I noticed a tiny rhinestone missing from one of the silvertone segments on the bracelet...its more noticeable in the picture than it is to the naked eye & should be an easy fix.
Add subtle luster & enhance any look with this gorgeous 2-piece necklace & bracelet set designed by "Michele Caruso". Necklace is 16.24" long, adjustable to 22.25" and accented with a freeform heart charm - bracelet is 7.5" long with fashionable toggle clasp...Both are rhodium-plated with faux-pearls & acrylic, crystal-look, beads!
2pc necklace & earring set...the design is from the mid 1970's from Sarah Coventry's Jet Set collection. Imported Austrian glass hematite stone is multi-faceted & comes to a point with a slight rainbow effect depending on the light & angle you look at it. The gleaming silvertone frame & delicate chain adds additional sparkle. Earrings are 5/8" diameter & the pendant is 3/4" diameter & the chain is adjustable to 16" & 18". Earrings are signed Sarah Cov. with no copyright symbol, the chain is marked with the Sarah Cov. made in Canada hang tag
Locket is brushed goldtone with shiny highlights & embossed rose garland with no issues to note. Its 1.25" round with screw-in barrel bail & signed Sarah with copyright symbol on the inside...attached chain is 21" long & signed with the Sarah Cov Canada hangtag
2pc "Tradition" goldtone clamper wristwatch & matching bracelet set is very substantial & looks unworn in its original case...the plastic tab insert between the pin & watch still in place. Both pieces are hinged, clamper-style, & should fit most
3pc keychain, earrings & bracelet...this set is handmade with clay beads & brightly painted with different kinds of birds. Earrings are pierce-style, keychain & bracelet are strung on stretch cord with silvertone bead spacers. Keychain is 5.5" long, bracelet should fit most. All are brand new by "Calypso Studios" in original packaging
Victorian-style charm necklace with original tag & packaging is playfully-romantic loaded with a collection of gems, charms & sparkles in silvertone, antiqued black metal, crystals & acrylic beads. It's 28" long (adjustable to many different lengths) & can be worn in several different ways...the safety pin charm with black rose & acrylic black beads opens so you can add more of your own charms or other pieces to it. It can be worn with just about anything, anywhere, from casual to formal, adding fashionable fascination to any outfit & occasion!
collectible watch in original case looks unworn & comes complete with certificate of authenticity watches (last picture) are marked as shown...the black one (unworn) with gold rectangle face & suede leather strap retains the protective plastic cover on back
fashion watches are marked, as shown... the black one (unworn) with gold rectangle face & suede leather strap retains its plastic protective cover on back the black one with baby croc grain strap looks unworn the last 2 with narrow rectangle faces & straps have both been gently worn with minimal signs of wear & research dates them 1980's/90's
"Avon" 2003 Angels of Harmony brooch pin is 1.75" round & looks unworn in original box
large round goldtone initial "H" pendant is signed Glamour and measures 2.75" diameter with 12" chain (no clasp) you slide it over your head initial "H" brooch pin has a shiny silvertone back and looks black when you look at it straight on & shimmers a pretty purple-blue colour in the light...1.5" tall x 1.25" across (both are gently worn)
goldtone stirrup earrings (pierced-style) are the newest in the lot & have never been worn...original case states eCselle Equestrian Jewelry.
Price is for the lot...Pick up only (Sussex area), no delivery, will ship (YOUR COST)!
Additional Options
The following services are also made available by this seller. Please reach out to them for more info as there may be additional costs.
Willing to ship the item

Offers curbside pick up

Offers cashless payment

Cash accepted
Take steps to make your Kijiji transactions as secure as possible by following our suggested safety tips. 
Read our Safety Tips