Some ads you might like instead...
Kitchener / Waterloo
15/10/2021
REWARD: I may have lost my wedding band on Woodland Avenue, Mill Street, or the Iron Horse Trail in Kitchener. It is a wide, white gold men's wedding band with a very distinctive inscription. If ...

Kitchener / Waterloo
11/10/2021
Lost: small rubber black and orange Harley key fob with metal ring and two small silver keys. One key is square-headed and the other is round-headed. Somewhere in Kitchener. Picture is of a similar ...

Kitchener / Waterloo
27/09/2021
On the night of September 25th, my purse was lost in the area of the uWaterloo and Laurier campuses. It had my phone (rose gold iPhone 8 with flowers on the case), my Keys and student card (on a ...
Kitchener / Waterloo
26/09/2021
A set of chef knives was lost downtown Kitchener the 21 st of September. Black roll up with apron and a set of knives on the inside.

Kitchener / Waterloo
15/09/2021
Visiting my father at the williamsburg cemetery and I lost my apple AirPods between there and home. If anyone has seen this please let me know!!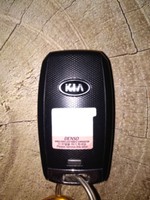 Kitchener / Waterloo
13/09/2021
LOST: One set of keys (KIA car key-fob, and several keys on the key ring), with a WAR AMPS key tag attached. Lost in ELORA, ONTARIO (or between Elora and Guelph) on Wednesday, September 26, 2018. IF ...

Kitchener / Waterloo
09/09/2021
*I have called a few places along the way, and still nothing as of October 13, thought i would try one more time before I have to spend the money on a new one. I have lost a Dodge Fob Thursday ...
Kitchener / Waterloo
31/08/2021
A ring and baby bracelet were lost over the weekend of August 28, in the Weber/Albert St area of Waterloo or possibly Waterloo Park. The ring was engraved with a K, and the bracelet was engraved with ...
Keys found in Queen's Square park in downtown Galt (park beside the fountain). Very distinct keychain. Found Saturday, August 28
Sponsored Advertisements: