Dale Earnhardt R Petty Daytona Lumina Stock Car Time Magazines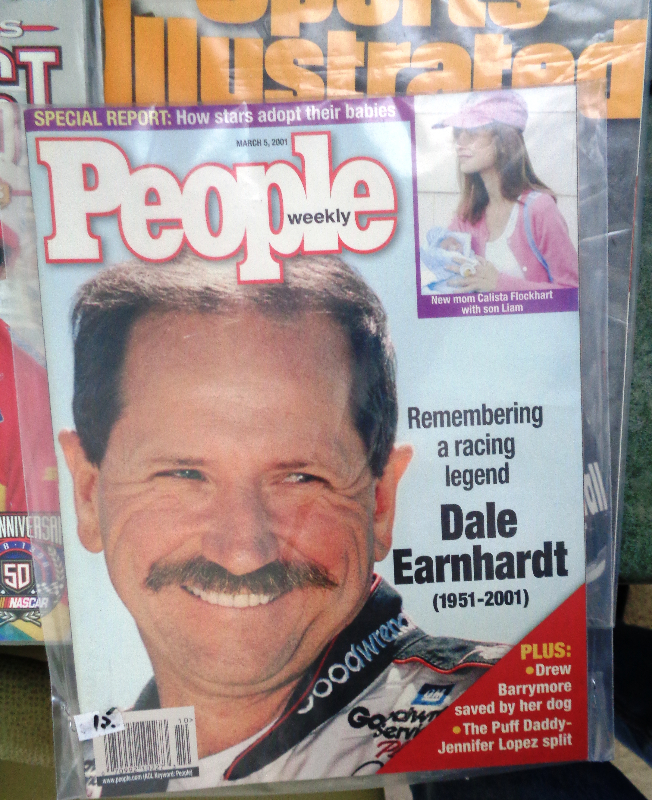 Description
Pickup your Items in Orangeville. Rare Dale Earnhardt Magazines 1st :- Performance Racing News April 2001 "Legend Lost" Earnhardt Cover , Price $8.00 . 2nd :- AMI Specials The Intimidator A Special Tribute To "An American Hero", Price $8.00 . 3rd :- People Weekly March 5 2001 "Remembering A Racing Legend Dale Earnhardt ,Price $8.00. . 4th Racing Publications Presents #1 First Edition 2002 with Special Collector 2002 Calendar Pullout ,Price $8.00
5th - Time March 5 2001 "Death in the Fast Lane" How a racing legend embodied the passions and perils of Nascar Price $8.00, .
6th- Sports Illustrated "Death of a Champion" Price $8.00,
7th - Special Commemorative Issue Sports Illustrated Presents "A Tribute To The Man In Black" Price $8.00 . 8th: Stock Car Racing March 1997 Special Daytona Issue The Bill France Story Earnhardt Front cover, Price $8.00 .
9th- Stock Car Racing July 1994 Special Issue "Winning What Does It Take" Earnhardt Front. Price $8.00 . 10th:- Stock Car Racing Special Daytona Issue March 1994 Earnhardt & his Lumina Front Cover,Price $8.00 .
11th:- Stock Car racing July 1995 "Earnhardt & Petty Behind The Story" Price $8.00 .
12th:- Stock Car Racing December 1996 "How Earnhardt Survived The Wreck" Front Cover Dale's Wrecked Car, Price $8.00
13th :- Stock Car Racing January 1998 NASCAR's first 50 years on front cover Price $15.00. . 14th. Nascar Pole Position Feb 2008 Front Cover Earnhardt Jr."Junior Nation New Team Big Dreams" Price $5.00 ..
Items sent by mail will only be answered if You email Full Name Phone Postal Code Address & list of Items (Required First ) ( Money Order or Cheque Accepted). Check my Toronto or Woodstock Site for More Diecast & Nostalgia Memorabilia No PayPal please
Take steps to make your Kijiji transactions as secure as possible by following our suggested safety tips.
Read our Safety Tips