Resume/Cover-Letter Writing Services (Job interview guarantee*!)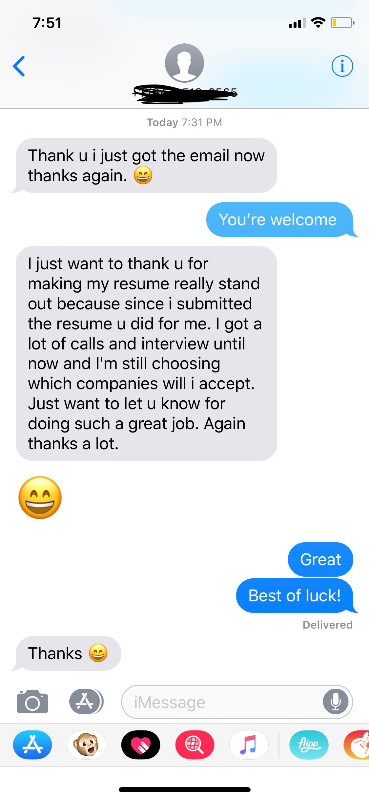 Description
Premium-resume.com Pay half money after getting a job interview!
Are you tired of applying online and not getting a response? Are you looking for a dream job? OR Do you need a promotion? Need a resume that stand out and catches the eye of the hiring manager? We can help you in your struggle for job search. We provide resume writing, cover-letter writing and related services.
Ignoring the power of a good resume and cover-letter can make your job search frustrating. Get is done now and take you job search to next level!
We can deliver resume and cover-letter within your expected time frame! And we do provide rush service for resume if you need your resume instantly within few hours.
We provide following services:  Resume Writing Service  Cover-Letter Writing Service  ATS friendly resume and cover-letter (Some companies use Applicant Tracking System to select limited number of applicants for further review)  Customized resumes and cover-letters (Most popular)  Resumes for graduates with/without experience  Resume reviewing help  Linked profile set-up (Best way to make connections and get promotions)  Follow-up and Thank you letters  Interview prep help (Sample interview material)  Scholarship/Grant essays help  60 days interview guarantee* * Ask for details
Spending money on these documents is an investment for better future so contact us now and get them done You cannot ignore the power of ATS system as most of the big companies use it and we have got our tricks to make you top applicants in job search!
We finish your work within 1 day as we know that how important it is to apply early to a job!!
Why choose us? We can be contacted anytime as work 24/7 We are a team of experienced English language tutors and our native English language writers can prepare a custom mater-piece resumes and cover-letters that can impress your employer. Our resumes and cover-letters are written by native English language writers and then they are graphically designed by graphic designers to make them eye catchy. And above all, we use keywords techniques to get more results. Contact us and tell us what kind of job you are looking for and we will provide you with suggestions that can ease your search for dream job.
Reviews: One of our client gave us following comment which can also be seen in the second picture in our ad: "I just want to thank you for making my resume really stand out because since I submitted the resume you did for me. I got a lot of calls and interview until now and I am still choosing which companies will I accept. Just want to let you know for doing a great job. Again thanks a lot." We have helped many of our clients and now its your turn. Our client is choosing employers and got so many offers!
What's new? We also provide help in applying for jobs. If you want to apply for tons of job but don't have time then we gave got you covered. ASK US FOR QUOTE FOR JOB APPLYING.
DON'T THINK TWICE WHEN SPENDING MONEY ON RESUME AND COVER-LETTER AS IT CAN MAKE YOUR FUTURE SECURED!
How it works: We provide services at your door-step. The following is a list of steps that will give you an idea of our working: 1. Please send us a link or description of job(s) you are applying for with your old resume. 2. If you don't have an old resume, then we will call you to know your education and work experience. 3. After that you need to pay a small deposit to start. (Worry about deposit? You can pay deposit via PayPal as with PayPal you can claim money back if you don't get the service. But we are looking at make loyal client base so we will send you work before time) We also accept etransfer if you don't use paypal. 4. We will send you a pic as a confirmation of work done and then you need to pay rest amount. 5. After you pay rest amount, we will send you file. We can also apply for tons of job to get you best results also email us the job title and location and we can apply for all jobs on internet. This is a general description of how the process works. Please do remember to tell us your requirements at the time of contacting us. It's very important to apply early for jobs so get your documents done now and apply immediately OUR RATES ARE AFFORDABLE AND UNBEATABLE! We will beat all written quotes! We will refund your money if we are unable to deliver on time!
Prices are as follows:
Resume $40 Cover-letter $40 Basic Package $75 (Includes simple resume and cover-letter) ATS friendly Resume $55 ATS friendly CV $50 Advance Package $100 (Includes ATS friendly resume and cover-letter) Customized resume $60 (Uses ATS with graphics) Customized cover-letter $60 (Uses ATS with graphics) Premium Package $110 (Includes customized resume and cover-letter) This is one of the most popular package that can increase your possibility on landing a dram job by great extent and most of our clients get desired results after getting it done Promotion Resume and Cover-Letter Package $150 (For those who are satisfied with their company but looking for promotion) Thank you/Follow up letters $30 Scholarship/Admission essays help $40 to $100 Linked in profile setup help $20 Linked in profile support help $80 (In linked profile Support, we will make your connections on linked in by accessing your profile) This is a trick used by professionals to get promotions in big companies Interview sample q and a: $20 Job applying help: Price varies depending upon number of jobs (Provide us job title and preferred location and we will apply to all jobs in that area) Mortgage/Loan approval letters: $60 All Other documents: Ask for price *Our prices are based on time and effort that takes for the document*
A message from our CEO "I know many people who spend thousands on tuition fee and other things but think twice before spending few bucks on getting their resume and cover letter done, which, in fact, gets you a dream job and can change your life! Get resume and cover letter done now and secure your future rather than feeling guilty later in life. Money spent on these documents is an investment for better future."
Give us a call or leave a text at following number: (587) 429-6418 OR Call our following toll-free number: 1-(800) 250-1921 (TOLL-FREE) Or If you are unable to reach us via number due to our unavailability, then email us at following: premiumwriters@yahoo.com And we will contact us as soon as possible. Get a step closer towards getting job interview!!
Our Guarantee*: Our resumes and cover-letter use keywords and tricks used by experienced writers to make you one of the top applicants! It can be a long struggle for dream job if you use your simple resume for applying to jobs *Our resumes and cover-letters come with 60-day interview guarantee. If you are unable to get interview within 60 days, then we rewrite it for free. But, this highly unlikely, as we use latest techniques with keywords to get you best results. It has not happened with many our clients before.
FAQ'S: How quickly can I expect to have my resume written? Typically, we'll deliver your carefully-crafted resume in 24 hours, but if you're in a rush, we can complete it in as little as 12 hours without compromising quality. Do you also provide resumes/cover-letters for government or other jobs that require to fill out special application? Yes, we do. Not only we would provide you a custom crafted resume but, on the other hand, we will also help you with application. Do you have customer service? Of course! Our friendly and knowledgeable customer services reps are available to answer your questions 24/7 Can I request revisions? Yes! We want you to be delighted with your resume, so we offer free revisions. To request a revision, you can email us the list of changes and we will take that inti consideration with priority. Please provide as much information you can about which revisions you'd like.
Feel free to contact us anytime at following: (587) 429-6418 1-(800) 250-1921 (TOLL-FREE) premiumwriters@yahoo.com premium-resume.com We are looking to make your job search easy so don't think twice and contact us anytime.
We are available 24/7 at your service.
Contact us by call, text or email for more info! Get your resume done before some one else gets hired at you dream job
We are there to make your struggle for job search easy by creating a resume and cover-letter that will get you results so get it done now and apply for best job out there!
Many people ignore the power of resume and cover-letter and this is the reason for not getting response after applying for lots of jobs. Spending money on resume and cover-letter is an investment for future that can lead to fruitful results in future.
Email us your old resume now with description or link of job that you will apply for at premiumwriters@yahoo.com and get your resume and cover-letter done within 12 hours!
Let's take your job search to next level!
Take steps to make your Kijiji transactions as secure as possible by following our suggested safety tips.
Read our Safety Tips