Some ads you might like instead...
$1.00
One Honda ct110 manual Pictures 1, 2 and 3 all in French, Picture 8 Honda ct110 manual complete all in English complete but no outer cover. 2 Honda 1980 c70 manuals in original sleeves, one manual ...

$45.00
Has many pictures with adjustment/care/repair references Original in black and white book for a VW bug car This manual is likely for the 1958 model year of Volkswagen with the rectangular rear ...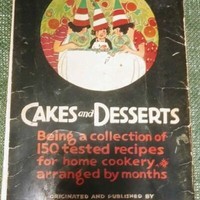 $55.00
For sale are 2 vintage/antique, Woman's World magazines, in well used condition, located in Penticton, shipping $5

$55.00
For sale is 1 vintage and 2 antique Jack London books, White Fang-1906, South Sea Tales-1911, The Call Of The Wild-1968, not first editions, Located in Penticton , open to offers.
$7.00
Very popular  book  by  Stieg Larsson,   One of a  trilogy. Keeps  the  reader involved  with intrigue  and   crime-solving.    Penquin.    Great condition. Like new I  ended up wth  two copies?   ...

$500.00
One was made in 1941 and the other one was made in 1960
Sponsored Advertisements: