2021 Floating Fortress - Floating Mat for Lake ON SALE
14611 131 Avenue North West, Edmonton, AB, T5L 4L8
(View Map)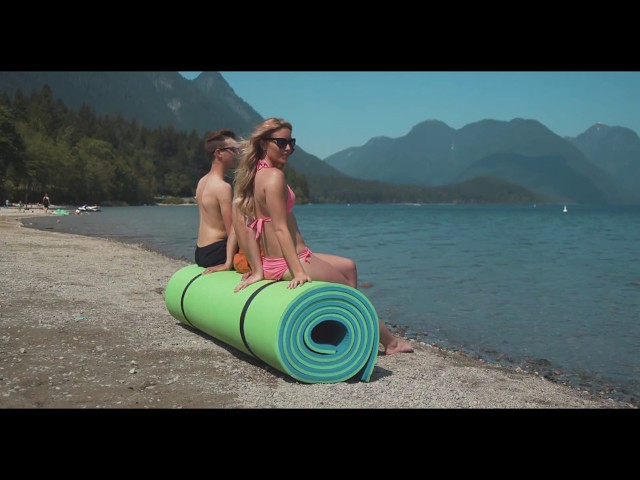 Make

Other

Model

Floating Fortress

Year

2020
Engine Displacement (cc)

0

Colour

Green

Stock

Floating Fortress
Description
Floating Fortress - Floating Mat for Lake


The Water Floating Fortress is a massive (18 ft. by 6 ft.) water mat that has a staggering weight capacity of 1,200 pounds (6-8 people). Resembling a floatable dock, the Floating Fortress has many different applications that provide fun for the entire family, whether it be the kids playing on it or the adults sunbathing on top of it enjoying some drinks. Made from cross-linked polyethylene foam, the Floating Fortress is extremely durable, as it is tear resistant and does not fade in the sun. The Floating Fortress is equipped with enhanced features, such as velcro storage straps and a 12 ft. bungee tether.
Material High grade two-layer cross-linked polyethylene foam 1-3/8 inch
Dimensions Unrolled 5.5m x 1.8m
Weight Capacity 550kg
Colors Neon Green & Neon Blue
Enhanced Features Velcro storage straps & 3.6m bungee tether
Warranty 1 year

EASY SETUP - The Floating Fortress requires no assembly and all you have to do is roll it out. That means more time for fun.
MORE SMILES WITH FRIENDS - With a weight capacity of 1,200 it can fit 6-8 adults. Create memories that will last for a lifetime.
MAXIMUM COMFORT - Be able to lie down, jump, or even tan. No more getting stuck in your inflatable donut.
PORTABLE DOCK - Massive floating mat (18 ft. by 6 ft.) that acts like a floatable dock. Treat it as a home base for you and your friends.
HIGHLY DURABLE - Made from extremely durable cross-linked polyethylene foam that is tear resistant and does not fade in the sun
EASY TO TRANSPORT - Made with lightweight materials so that you can transport it easily. Fit it in your car without any issues.
Equipped with enhanced features, including velcro storage straps and a 12 ft. bungee tether

We have the biggest showroom of recreational toys for kids and adults in Edmonton ! Dont waste your time checking other places as you will find it ONLY here for the best price match guaranteed !!! ( on the same brand and model products in radius of 50km only)

No extra fees or other charges on the top of the price beside 5% GST

We Accept: Cash, Debit, Visa, Master Card, Direct Deposits.
Prices may be changed at any time without further notice. All vehicles are new, model year might vary. Please confirm prior to purchase.

Shipping is Available Anywhere in Canada.

Please Contact Us For Delivery Time and Price Quotes.

WE PROVIDE SERVICE, REPAIRS & CARRY ALL PARTS FOR ALL OUR PRODUCTS!

ATV EDMONTON

Phone # 780-488-4949 www.atvedmonton.com
or
Visit Our Showroom at (West-End) 14611 - 131 ave. Edmonton Business Hours (MST) Monday to Friday: 10 AM to 6 PM Saturday: 10 AM to 4 PM
Rosso Floating Fortress - Floating Mat for Lake
The Rosso Water Floating Fortress is a massive (18 ft. by 6 ft.) water mat that has a staggering weight capacity of 1,200 pounds (6-8 people). Resembling a floatable dock, the Floating Fortress has many different applications that provide fun for the entire family, whether it be the kids playing on it or the adults sunbathing on top of it enjoying some drinks. Made from cross-linked polyethylene foam, the Floating Fortress is extremely durable, as it is tear resistant and does not fade in the sun. The Floating Fortress is equipped with enhanced features, such as velcro storage straps and a 12 ft. bungee tether.
Material High grade two-layer cross-linked polyethylene foam 1-3/8 inch
Dimensions Unrolled 5.5m x 1.8m
Weight Capacity 550kg
Colors Neon Green & Neon Blue
Enhanced Features Velcro storage straps & 3.6m bungee tether
Warranty 1 year
EASY SETUP - The Rosso Floating Fortress requires no assembly and all you have to do is roll it out. That means more time for fun.
MORE SMILES WITH FRIENDS - With a weight capacity of 1,200 it can fit 6-8 adults. Create memories that will last for a lifetime.
MAXIMUM COMFORT - Be able to lie down, jump, or even tan. No more getting stuck in your inflatable donut.
PORTABLE DOCK - Massive floating mat (18 ft. by 6 ft.) that acts like a floatable dock. Treat it as a home base for you and your friends.
HIGHLY DURABLE - Made from extremely durable cross-linked polyethylene foam that is tear resistant and does not fade in the sun
EASY TO TRANSPORT - Made with lightweight materials so that you can transport it easily. Fit it in your car without any issues.
Equipped with enhanced features, including velcro storage straps and a 12 ft. bungee tether
We have the biggest showroom of recreational toys for kids and adults in Edmonton ! Dont waste your time checking other places as you will find it ONLY here for the best price match guaranteed !!! ( on the same brand and model products in radius of 50km only)
No extra fees or other charges on the top of the price beside 5% GST
We Accept: Cash, Debit, Visa, Master Card, Direct Deposits.
Prices may be changed at any time without further notice. All vehicles are new, model year might vary. Please confirm prior to purchase.
Shipping is Available to Anywhere in Canada.
Please Contact Us For Delivery Time and Price Quotes.
WE PROVIDE SERVICE, REPAIRS & CARRY ALL PARTS FOR ALL OUR PRODUCTS!
ATV EDMONTON
Phone # 780-488-4949 www.atvedmonton.com
or
Visit Our Showroom at (West-End) 14611 - 131 ave. Edmonton Business Hours (MST) Monday to Friday: 10 AM to 6 PM Saturday: 10 AM to 4 PM
Take steps to make your Kijiji transactions as secure as possible by following our suggested safety tips. 
Read our Safety Tips