"Ain't Misbehavin' " - DogTraining / Behaviour Issues
Posted
1000 Pembridge Crescent, Kingston, ON K7P 1A3, Canada
(View Map)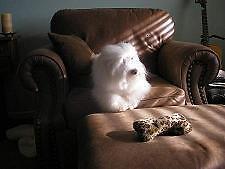 Description
(WEBSITE: AINTMISBEHAVIN.CA ) - Generally uncontrollable behaviour / Dog or people aggression / Pulling on leash / Jumping up / Separation anxiety / Excessive barking / Boundary training / Off-leash training / etc., etc.
- or an even better relationship with your well-adjusted, well-behaved pet
(613)-531-0965
Renowned Dog Whisperer/Dog Behaviourist DOUG BRADY will:
- COME TO YOUR HOME to work with you and your dog(s) at your convenience
- TELL YOU 'WHY' (very important) your dog is doing the unwanted behaviour(s)...THEN EXPLAIN AND SHOW YOU how and exactly 'what to do'...to correct the problem(s)
- TEACH YOU HELPFUL HANDLING SKILLS that will make life easier for both you and your dog...for instance... a very easy technique where, in minutes, your dog will never again pull on the leash...as well as many other indespensibly important and useful skills that will help in every aspect of life with your dog.
- GIVE YOU VALUABLE INSIGHT AND KNOWLEDGE into the way dogs think and view the world, and show you how to use this information to your advantage...and in a practical and 'effective' manner to - (1) better communicate with them - (2) change unwanted behaviour - (3) create harmony, stability, and security in their little doggie world so that they are more calm, content and comfortable - (4) establish trust and respect between you and your dog(s) - (5) avoid the miscommunication and misunderstanding that is usually the root cause of most problems (VERY important)
- TEACH new dog or puppy owners very easy and simple (but VERY IMPORTANT) things to do (and not to do) so that future behaviour issues can be avoided altogether....("PREVENTION is always the best solution...KNOWLEDGE is your best friend." - Doug Brady)
INITIAL VISIT - $160 - usually about 2 hours - however, there are no time limits (it takes whatever time it takes to achieve whatever it is we are looking to accomplish)
SUBSEQUENT VISITS - FREE - sometimes it is necessary - most times it is not
YOU DECIDE - If you feel that what Doug has taught you and shown you had little or no value, wasn't helpful, or won't produce obvious, and tangible results, etc., etc........you owe NOTHING. YOU have to be satisfied.....that what you have learned was worth it. There is no other criteria. "This is the best I can do to guarantee that it will not be just another waste of time and money. No satisfaction...no charge." - Doug Brady (613)-531-0965
"My goal is to open your eyes with the things I show you and teach you so that you and your dog(s) will live happier lives together...simple as that." - Doug Brady
NOTE: For people who rescue dogs...or adopt or foster dogs from the Humane Society.....there is no charge. "I feel it is a privilege to be able to help anyone who is willing to give a needy dog a home...and I am more than happy to do so. Too often dogs are returned for issues that are easily correctable with a little help." - Doug Brady
FURTHER NOTE: No one who needs help with their dog will be refused or turned away for the lack of money.
For more in depth information about dog whisperer Doug Brady...references, testimonials, etc., please visit DOUG'S WEBSITE: AINTMISBEHAVIN.CA
Take steps to make your Kijiji transactions as secure as possible by following our suggested safety tips.
Read our Safety Tips