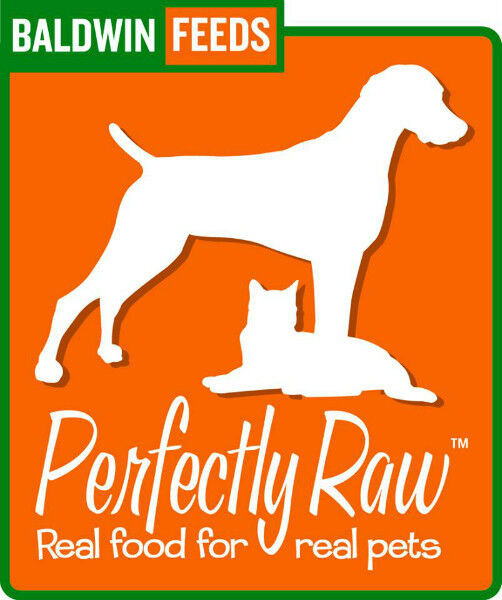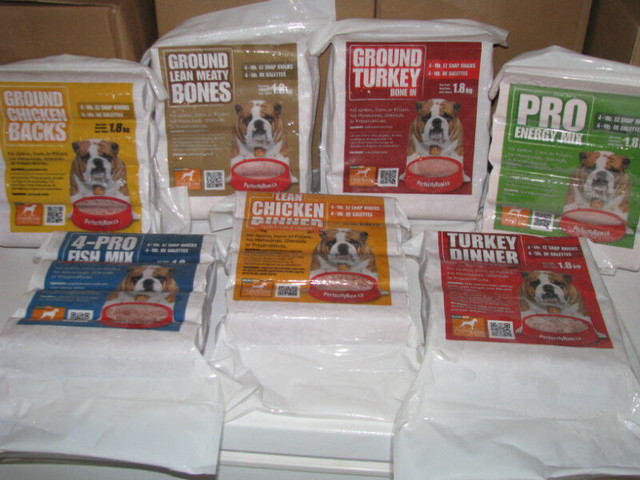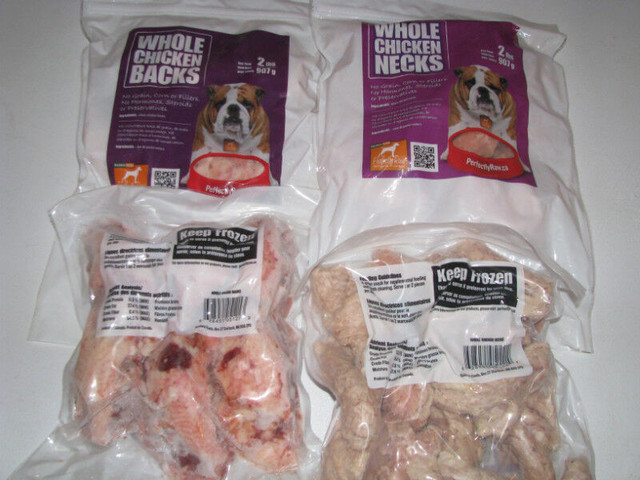 Description
"Hooves & Paws" is a distributor of Perfectly Raw Dog Food.
**Receive a 10% discount on your first order and contact me for free samples of Perfectly Raw.**
Available in sizes from 1/2lb EZ snaps to 50lb solid blocks. The smaller convenient sizes are great for dog owners that have 1 or 2 dogs and are super easy to feed. The larger solid blocks are great for larger operations such as trainers, breeders, kennel owners, mushers, etc. Bulk pricing available for 500lb + orders.
Choose from: Turkey Dinner - double ground turkey frames, cooked eggs, pork liver, pumpkin, sweet potatoe, blueberries, carrots, kelp, broccoli, parsley and alfalfa. Lean Chicken Dinner - GLMB, cooked eggs, pork liver, pumpkin, sweet potato, blueberries, carrots, kelp, broccoli, parsley and alfalfa. 4 Pro Fish Mix - GLMB, wild caught pacific coast salmon, cooked eggs, pork liver. Pro Energy Mix - ground chicken backs, GLMB, cooked eggs, pork liver. Ground Chicken Backs - ground chicken backs. Ground Turkey - double ground turkey frames. Ground Lean Meaty Bones (GLMB) - ground lean chicken bone in. Whole Chicken Necks Whole Chicken Backs. Purrfect Pro Mix - ground chicken necks, double ground GLMB, cooked eggs, pork hearts, pork liver, taurine. Pure Pork - ground pork trim,ground pork hearts, ground pork tongues, ground pork bones, ground pork liver.
NO Grain, Corn or Fillers. NO Hormones, Steroids or Preservatives.
Check out the website at: http://www.perfectlyraw.ca.
"You have the power to positively change your dog's health and performance today – and in the long term. Millions of savvy breeders, trainers, mushers and pet owners provide raw food to their carnivore family. Some want to improve performance. Others want to cure an ailment or disease. And others, like you, simply want to give their dog the best chance for a long, healthy, happy and active life. Why not join them? Perfectly Raw™ products use only top quality, natural, fresh foods, rich in protein, vitamins and other key ingredients that your dog needs to achieve the best health and nutrition. We know that chemically processed, commercial fast foods are not good for our own health, so why not switch to Perfectly Raw™ today, and give your dog the best chance for a long and happy life."
"Switch to Perfectly Raw™ and never look back. Your dog will love you for it, and blend into the change like they have always eaten this way. Keep the diet simple at first, especially for older/middle aged dogs that have been eating fast food for most of their life. For dogs new to a raw diet, it is best to start slow with small meals of ground backs or GLMBs, giving them time to re-develop their digestive systems. Once your dog is digesting the GLMBs, you can include our whole necks, backs and one or both of our Pro Mixes, depending on your dogs needs."
"Give your dog the Best. Feed them Perfectly Raw."
Raw is normally fed at 2-3% ideal body weight of your dog. For example, a 50lb dog will eat 1lb a day. A 16 x 2 Brick Box will last a 50lb dog an average of 32 days.
Price list in pictures. GST included in prices.
Please contact me for bulk pricing. 50lb nude blocks and GLMB bagged blocks are special ordered (min. 10).
Hooves & Paws" - Serving Marwayne, Lloydminster, Vermilion, Kitscoty, Paradise Valley, Provost, Chauvin, Elk Point, St. Paul, and surrounding areas. I will have delivery days to each community. Would be willing to travel further distances if there is enough interest.
We also have Canpressco Camelina Oil. Great for dogs, horses, etc. 4L jug - $67 and 20L pail - $304.
We also carry Excel Herring Oil - great for shiny coats and overall health of your dog - 1L bottle - $23 and 1 Gallon - $89.
"Hooves & Paws" A Division of Bar S Quarter Horses Marwayne, AB (780)871-4487
Take steps to make your Kijiji transactions as secure as possible by following our suggested safety tips. 
Read our Safety Tips