CNC Router - NEW Rig 44, 2 units just in ... Opps 1 left ...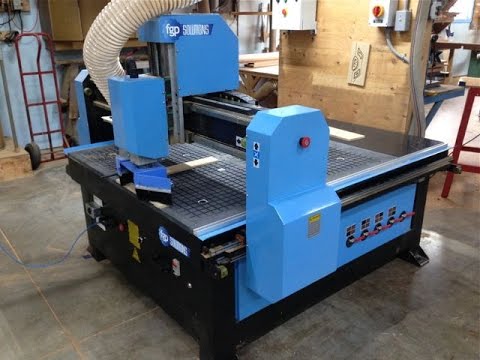 Description
One Rig44's (4'x4'), is remaining. Next shipment in 8 weeks. They sell quickly - Next shipment in 8 weeks. The 2 Rig48's have sold. but 2 4' x 4' available immediately. Pictured below NEW RIG 4' x 4' $15,500, See Poster's other ads at - goo.gl/ZY8iMD & Rig 48, (4' x 8' unit). $23,500. Plumbed for vacuum, does not include pump. 4 recently brought into Ontario & both customers very happy. Last 4 photos are of the Rig 48. With Mach 3 open architecture controller. • All RIG series have REMOTE LOGIN SUPPORT, which allows for offsite support, training and troubleshooting - included. Small learning curve. Still want to continue using your wood working skills at home and only have 220 Volt Single Phase power? Both the NEW Rig 44 & Rig 48, run on 220 Volt Single Phase or 220 Volt 3 Phase power. The Rigg 44 is perfect for professional use - Sign making, Proto-typing and educational uses. Want your own business? Need a router that doesn't take up too much space in your garage or workshop? Want to make signs, cabinets, prototypes,and furniture? Want to cut and engrave, wood, aluminum, acrylic, MDF, and foam? Don't want to spend a fortune on a larger table that you don't need and is expensive to run? Want to design and fashion a part that does not require extensive computer skills? Do you already have a large CNC router and don't wish to fire it up to do smaller jobs? Do you have a laptop or computer? That's all you will need. Coupled with any inexpensive design software you can begin manufacturing immediately. The New RIG44, 4' x 4' CNC Router , (51" x 51" work area) or the RIG 48, (48" x 96"), is the answer. Constructed of industry standard, high quality components used in all high-end CNC routers. On-line remote training included. • Gantry to table clearance 9" • The Rig 44 is built with a heavy Duty steel frame and gantry. • The table has a Fully plumbed Vacuum Table with 6 separate vacuum zones and controlling valves. Purchase a pump to make use of the Vacuum Table. Suggest 7 - 10 H.P. for the 4 x 8 model. Used ones are available. • Remotely controlled, Variable spindle, (1000- 18,000 RPM), 5 HP air-cooled manual tool change spindle with over size, 7.5 HP Spindle drive • Cuts wood and aluminum at full 18,000 RPM • Helical rack and pinion XY with TBI heavy ball screw on the Z-axis. High torque (1000 ox.in) stepper motor and drives. Dual motors on X (long Axis), 25 mm bearing blocks and rail X/Y. • 900 IPM travel speed • Weight: 1984 lbs, ( 4 x 4' model). • Wireless hand held pallet – for full control of the machine (start, stop, pause, mist, jog, etc. and simple to use touchscreen, graphical interface to see the job before cutting with Job simulation, for exact time for each run and onscreen cut process display. Uses MACH 3 controller that accepts all types of design input. Tool Library for length and diameter compensation. • Collet, tool wrench, assorted bits, dust hood, tool length sensor included • Comes with RIG44 or RIG48 tool path software • Design Software? - Suggest Vetric V-Carve Pro or Vetric Cut 3D design software, although the RIG44 allows direct import of DXF, BMP, JPG, AND HPGL files.
For Vetric Software options, See: goo.gl/cChJvt Works with programs such as AutoCAD, Solidworks, Illustrator etc. • Touch screen capability with Job Simulation to calculate exact time for each run. • Main screen controller interface is simple to use using a windowed graphical environment. Added Features. Industrial 25mm linear rails Maintenance free self lubricating bearing blocks 5HP air cool spindle Two sensors on X axis. This will put machine gantry into square every time machine is homed. Helical racks . This will significantly reduce any backlash on machine movement. Availability – Immediate. Located in Toronto for demo.
Contact Jim for more info and formal quotation - 905.745.6663
Take steps to make your Kijiji transactions as secure as possible by following our suggested safety tips.
Read our Safety Tips