Mics: PZM/boundary/lg&sml cdnsrs/tube mic/tube pre/5ch mixer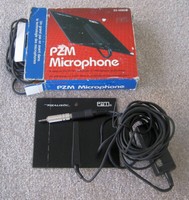 Description
Mics: PZM/boundary/lg&sml cdnsrs/tube mic/tube pre/5ch mixer
Several mics and mini-mixers for sale. These were all selected by me for their dollar value so these are all a lot for your money. Prices are firm, lowballs will be ignored. I'm willing to ship if you're willing to pay shipping plus $25 for my time and trouble.
Two Crown PZM mics $40 each. These were made by Crown for Radio Shack so they're really good quality for the $$.
Behringer Xenyx 502 5-channel mini-mixer $65. One pro quality mic pre, 4 utility inputs. Exc. cond. w'power supply.
NEW IN BOX Apex 435 large-diaphragm FET condenser mic $100. Tested, never used. Cheaper than Long & McQuade and no tax.
Crown PCC170 "wedge" boundary mic $85. Made by Crown, this is the Crown with ParkerVision branding. Lots of uses, 6 DIP switches.
ART ProMix 3-channel mic/line micro-mixer new in box $80. Tested, never used. Check against Long & McQuade price.
Stellar Labs 555-21010 mini mic preamp $25. Adds a lo-noise mic input and preamp to any mixer that needs an extra mic input. Uses any standard 12VDC or AC adapter.
Studio Projects TB1 tube mic in case $200. You will not find a better-sounding stock tube mic for this price.
ART StudioMP tube preamp new in box $100. This is the blue one with the voice modeling option and the VU meter. Tested, never used.
Apex 150 "choral" mic near-new in box $100. Barely used. Compare to Long & McQuade price. Great sound and many uses: drum overheads, floor capture, second/distant amp mic, gang vocals, etc.
Joe Meek JM27 pencil condenser with micstand clip and windscreen in excellent condition with manual $75. Worth googling.
Take steps to make your Kijiji transactions as secure as possible by following our suggested safety tips.
Read our Safety Tips