GPS REPAIR/UPDATES/CHARGER ISSUES/ STARTING FROM $35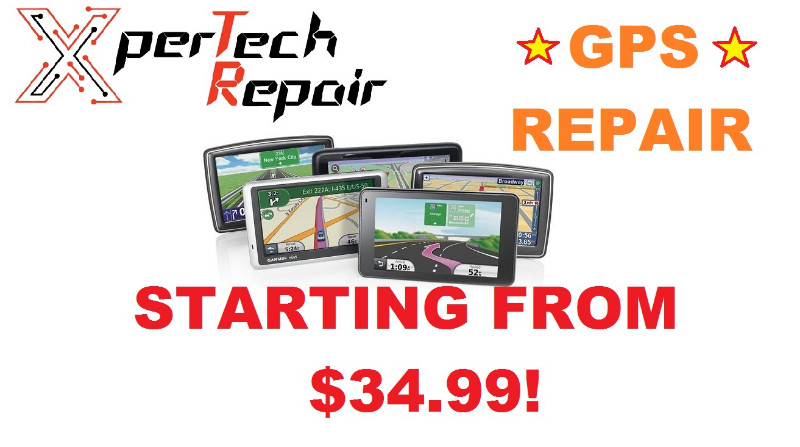 Description
Charging port/DC jack/updates/Not turning on/Sound Problem, LCD BROKEN + MUCH MORE IN MISSISSAUGA AREA >>TOM TOM/ GARMIN/ MAGELLAN/ COBRA/ MIDLAND/Rand McNally
➤➤➤CHECK OUT OUR GOOGLE REVIEWS TO SEE WHAT CUSTOMERS HAVE TO SAY ABOUT OUR SERVICE!!*
>>>>>> www.xpertechrepair.com <<<<<<<<
______________________________________________
WE ALSO REPAIR ALL ELECTRONIC DEVICES! -------------------------------------------------------------- ✵✵✵✵✵✵✵✵✵✵✵✵✵✵✵✵✵✵✵✵✵✵✵✵✵✵✵✵✵✵✵✵ Come see us today! We offer walk-in service and fast repair! Come relax in our waiting room
Area with FREE wifi while you wait for your repair.
We are conveniently located at the corner of Derry and McLaughlin right beside Wild Wings .
Lots of free parking spaces in front of our store.
✵✵✵✵✵✵✵✵✵✵✵✵✵✵✵✵✵✵✵✵✵✵✵✵✵✵✵✵✵✵✵✵ Our Address is : 7070 Saint Barbara Blvd, Unit 58, Mississauga
Our Hours:
Monday to Friday 10 am to 4: 00pm (Closed between 4-6) and Re-Open in the evening time 6-8 pm Saturday 10 am to 6 pm Sunday 12 - 5 PM
Call or email us today!
289-633-3681
service@xpertechrepair.com
Visit our website at:
www.xpertechrepair.com
FOLLOW US ON INSTAGRAM: xpertech_repair
Call us now and get Xpert repair you can trust!
Take steps to make your Kijiji transactions as secure as possible by following our suggested safety tips.
Read our Safety Tips