Some ads you might like instead...

$8,000.00
2012 Sukuzi GSX-R 600 Black & Red 20,860 km Clean papers Never dropped Selling because I'm moving to Montréal. I'm the second owner and bought the bike at 18 500km last year. Did a little bit over 2 ...
20,860 km
$8,500.00
Burnaby/New Westminster
20/09/2021
KTM SuperDuke 1290 R Mechanically this motorcycle in great shape. Doesn't need anything. New EBC pads all around. X-blaster taillight with turn lights inside. The motorcycle just passed safety ...
20,000 km

$3,980.00
Downtown-West End
14/09/2021
looking to sell my gsx250r to grade to a bigger bike. It's a great beginner bike to start with. I had it for almost a year, only 1 owner, never drop it. Always keep it in heated garage. Asking for ...
4,376 km
$2,500.00
Delta/Surrey/Langley
09/09/2021
I am selling my 2009 ninjia 250cc it has only 2000km on the bike drove it not even a season and its been parked ever since battery is dead but i should fire right up with new battery 2500$ obo will ...
2,000 km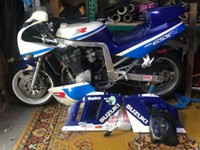 $8,000.00
Rare vintage sport bike well maintained stored in a climate control area has had one owner never been in a collision or been raced on a track not even on practice days with lots of mods allows this ...
37,962 km

$16,000.00
Burnaby/New Westminster
02/09/2021
2017 Ducati Monster 1200S, flawless condition, clean, well maintained, never down, raced or even ridden hard. Completely stock except for Dealer installed DP Termignoni Pipes and DP windscreen. The S ...
13,500 km
Sponsored Advertisements: