Some ads you might like instead...

$15,901.00
2015 Ducati Panigale 899 White 9000 kms on it, bike is in excellent condition and all fluids have been changed recently. Accessories included: dual Termignoni exhaust, front and rear stands, a ...
9,000 km

$12,000.00
2019 ya ha mt09 low km. Endless amount of parts. Professionally tuned and brand new tank paint no accidents just rock chips fixed in factory colour. Babied and I'm better then new condition.
4,500 km

$5,750.00
Downtown-West End
05/10/2021
Great bike in superb condition (never dropped / got in any crashes / low milage). Selling as I want to upgrade to a z1000. I bought it in December 2020, but only rode it from April until now (I don't ...
1,900 km
$2,500.00
Delta/Surrey/Langley
09/09/2021
I am selling my 2009 ninjia 250cc it has only 2000km on the bike drove it not even a season and its been parked ever since battery is dead but i should fire right up with new battery 2500$ obo will ...
2,000 km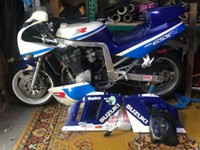 $8,000.00
Rare vintage sport bike well maintained stored in a climate control area has had one owner never been in a collision or been raced on a track not even on practice days with lots of mods allows this ...
37,962 km

$24,900.00
2018 Panigale V4S with only 7000 km on it this bike has euro gearing one up five down aftermarket levers and bar end mirrors…please only serious inquiries. Located in Edmonton area we will ship to ...
7,018 km

$7,900.00
Like new. Includes aftermarket and original parts (touring shield, muffler, seat, cases, etc). No bartering, trades or haggling. I am 2nd owner. Price firm. Save one tax. Private Sale. Very low kms.
8,000 km
Sponsored Advertisements: