Harley Davidson customized CHROME Sportster 1998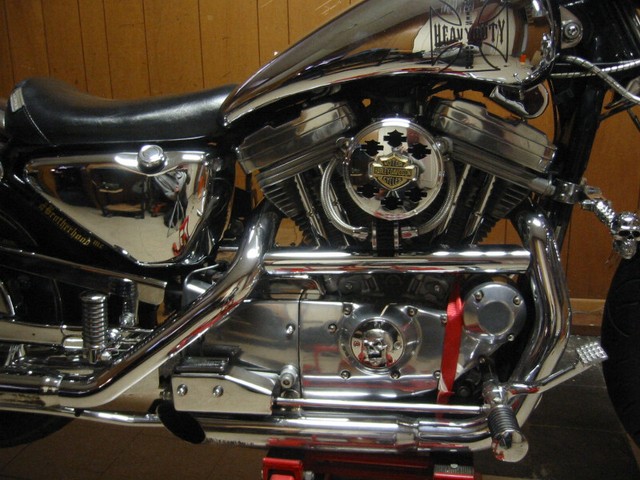 Make

Harley-Davidson

Model

Sportster

Colour

Other
Engine Displacement (cc)

883

Kilometers

88,688

Year

1998
Description
1998 Harley Davidson customized CHROME Sportster Unlike many Harley ads have you seen listed as ALL CHROME only to be disappointed, heres a real head turner for your consideration. The Blue Agave Chromester - was on display in my restaurant most of it's life - also won a few awards at bike shows. It was parked and stored in my house in Montreal in 2009. Bike was last registered in Ontario 2009, it can be viewed where it is currently located in Pierrefonds Montreal. It's ready to go, i have been test riding it. Brand New Barnett extra plate kevlar clutch pack was just installed, worth 250$+. it's a good idea to replace the stock grenade plate with this upgrade. New primary and engine oil changed Front tire still has full tread, but a good idea to buy some fresh rubber tires, these are 10 years old. Needs a new battery also. The gas tank is hard to take a good picture of, it looks much better in person than the pics, very good condition chrome.
Stock 883 motor with 89,000 kms, Motor is still very tight and strong, good compression, valve cover gaskets were replaced, runs perfect. Can easily be converted to a big bore kit, that's what i had in mind for the future but since the motor runs so well, i don't like messing with things until they need upgrading. Been stored and displayed INSIDE my house on the bike lift, off the ground since 2009
A partial list of what's on the bike, i may have forgotten a thing or two. Pro-One custom wheels, Smoothie polished 16" rear and RARE Switchblade 19" front . Original cost over $2250 Customized aftermarket teardrop tank, stretch fitted to the seat and chromed. Lined with Kreem tank liner. Chrome is still excellent, It would cost about 2k+ today IF you could find a shop to chrome a gas tank. Has a small scratch and a dent on the right side. 2 seats - LePera bare bones low profile single seat, plus a two up low profile LePera Chrome Screamin Eagle fork brace # 46192-99A Chrome front fork sliders # 45275-98 Chrome Progressive 412 short rear shocks and Progressive Suspension front springs. Seat height is around 25 inches now Screamin Eagle II baloney cut slip on pipes, with slightly bored out baffles. scratches on both of them from a low speed corner lowside on a wet manhole cover. (Brand new stock pipes also included.) Chrome exhaust bracket / bar Chrome sportster forward control kit # 33891-98 with Chrome o-ring footpegs # 50913-89t Chrome o-ring shifter # 34631-84t $800 Chrome passenger footpeg mounting kit # 50610-86t with Chrome o-ring footpegs # 50913-89t Chrome kickstand Chrome oil tank cover # 62512-97 Chrome starter cover # 31314-99 Chrome belt sprocket cover # 40279-91a Chrome Upper belt guard # 60404-91 Chrome lower belt guard # 60480-94t Chrome voltage regulator cover # 74579-97 Chrome bar and shield cv carburetor top cover # 27040-88t Chrome rear master cylinder cover # 41727-85t Chrome ignition module cover # 66328-82t Chrome Coil cover Drag Spec # 16183 Chrome speedometer bracket # 67293-95 Chrome speedo guage bezel # 74541-00 Chrome headlight bezel # 69623-99a Chrome clutch perch # 38403-99 Chrome Switch housing kit # 70222-96 Chrome Master cylinder cover # 45078-96 Chrome Mothers Customs points cover Skull $80 Skull Enterprises Aluminum Skull Derby cover Chrome cylinder base cover kit # 32732-98 Chrome top battery cover # 66367-97 and Chrome side cover # 66340-78 Chrome Road Iron licence plate holder and angle plate with Chrome cover on both Chrome Maltese cross tail light Chrome Rear Swingarm # 48323-97 $375 Chrome rear axle cover kit with bar and shield covers for lower shock bolts.# 45328-00 Chrome front caliper cover # 43974-98 Front stainless braided brake line # 45201-97b and Braided Clutch Cable / Line Russell performance polished stainless front brake disc rotor drilled Chrome 1 1/4" cable clamps x 2 Chrome under mount mirrors left / right Chrome foot peg mounts for highway / crash pegs with a pair of IMP chromoly Skull Vertebrae pegs on frame clamps. Chrome Bar and Shield Handlebar clamp with 6" risers # 56223-98 Chrome Custom cut bar and shield old school round air cleaner kit with relocation bracket and Chrome braided oil crankcase breather filter Chrome Rear fender custom cut straight bobbed Chrome Front fender custom cut flames with a few scratches on it. Other Chrome parts > horn cover, axle covers, spiked front axle covers,
Also comes with a whole bunch of extra stuff you can keep or sell., Stock air filter housing with K&N screamin eagle stage 1 upgrade kit like new #29041-88b, the original stock black gas tank, original stock fork sliders still like new, stock tail light, stock mid foot peg controls,stock clutch cable and brake cable, Lepera low profile double seat, the stock single seat that i took apart to customize with a chrome vinyl material, stock tail pipes in brand new condition, harley manual for the bike and some parts catalogs, Harley bike cover, Blackjack bike lift and many misc parts, nuts and bolts, extra new wheel bearings, cleaning supplies products etc... Well over $1000 in extra stuff
Bike was last registered in Ontario 2009, it can be viewed where it is currently located in Pierrefonds Montreal. I'm asking for $6300 for all of it. Have more than that into it in chrome, extra parts and custom wheels. Serious buyers only please.
Take steps to make your Kijiji transactions as secure as possible by following our suggested safety tips. 
Read our Safety Tips