NEW: LEGO Dimensions-Team Pack-DC Comics-Joker & Harley Quinn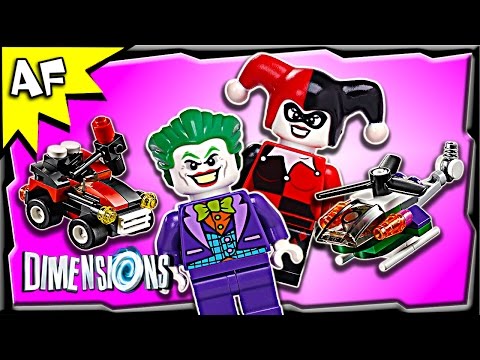 Description
NEW: LEGO Dimensions-Team Pack-DC Comics-Joker & Harley Quinn - $20
https://www.youtube.com/watch?v=HqH-6RvH1DU
What is LEGO® Dimensions™? When a mysterious and powerful vortex suddenly appears in various LEGO® worlds, different characters from DC Comics™, The Lord of the Rings™ and The LEGO® Movie are swept away. To save their friends, Batman™, Gandalf™ and Wyldstyle™ bravely jump into the vortex and quickly find themselves fighting to save all of LEGO humanity. Let creativity be the guide to a building and gaming adventure – journey through unexpected worlds and team-up with unlikely allies on the quest to defeat the evil Lord Vortech. Play with different minifigures from different worlds together in one LEGO videogame, and use each other's vehicles and gadgets in a way never before possible. LEGO Bad Cop™ driving the DeLorean Time Machine…why not?! The LEGO® Ninjago™ Masters of Spinjitsu fighting alongside Wonder Woman™...yes, please! Get ready to break the rules, because the only rule with LEGO Dimensions is that there are no rules. Build the minifigure heroes and fire-up the game to start the experience, and then follow the in-game build instructions to assemble the loose bricks into the LEGO Gateway, and place the structure on the LEGO Toy Pad. Expand the adventure by collecting more minifigures, vehicles, gadgets, and new levels with the purchase of three different types of expansion packs. Use whatever minifigure with whichever vehicle or gadget – go ahead… break the rules! • Team Pack: Want the biggest collection? Get a dynamic pair of mini-figures and a vehicle or gadget for each, all with their own unique in-game abilities.
We have various type of toys for sale and no taxes on all toys Some of them only have limited quantity. Don't miss it ! : )
Please click "view poster's other Ads" at right top corner or browse thru below link to view all the NEW TOYS, price and desrciption.
VIEW BELOW LINK TO SEE ALL NEW TOYS :
https://picasaweb.google.com/113300793030001975847/1ToysForSale?noredirect=1
NEW BABY CLOTHES: https://plus.google.com/photos/113300793030001975847/albums/5874666149208177425?authkey=CIX8saS3nPaMcA
NEW DRAPES (PANEL CURTAINS): https://plus.google.com/photos/113300793030001975847/albums/6014580706618385729?banner=pwa
All toys must pick up in Mississauga. (Thomas Street and Erin Mills Parkway)
Please email contact number for pick up arrangement. ZOOMER DINO ( won the 2015 ToTY for "Boy Toy of the Year" and " Overall Toy of the Year. ) Christmas Train Set KIDKRAFT TABLE AND CHAIRS SET KIDKRAFT SHOPPING MALL CASTLE WOOD DOLL HOUSE HIGH SCHOOL WOOD DOLL HOUSE SUPERMARKET, MARKET STALL CUPCAKE KITCHEN, BBQ KITCHEN THOMAS & FRIENDS LEGO LUNCH BOX HOT WHEELS AIR HOGS TOYS TRANSFORMERS TRAIN SET TENTS (DISNEY BED TENTS, DOME TENTS, PLAYHOUSE) REMOTE CONTROL CARS K'NEX MANY DRESS UP CHEST MINNIE MOUSE RIDE ON AND TOYS BARBIE HELLO KITTY DANCING SPEAKER, ICE CREAM MAKER HELLO KITTY MAGIC OVEN, PANCAKE MAKER, HAND MIXER & VACCUM LITTLEST PET SHOP NEWBERRY DOLLS, ACCESSORIES & OUTFITS INTERACTIVE DOLLS LOTS OF BABY TOYS AND EDUCATIONAL TOYS BRANDS INCLUDED: FISHER PRICE LITTLE PEOPLE LITTLE TIKES PLAYSKOOL ALEX TOYS PLAYGO HASBRO VTECH TOYS AND MUCH MORE.... ALSO HAVE NHL MUSCLE MUG, BABY CLOTHES FOR SALE
Thanks :)
Take steps to make your Kijiji transactions as secure as possible by following our suggested safety tips.
Read our Safety Tips