Some ads you might like instead...

$350.00
Equalizer hitch, sway control c/w 2 5/16 ball. Completely adjustable. In near new condition, only used 4 times

$500.00
3 40 watt solar panels all connections included, also bought larger controller to hook up the three in unison.

$350.00
for sale portable waste tank for rv.27 litre .bought new march 2018.still in box never used.paid 375 plus tax.asking 350 no tax.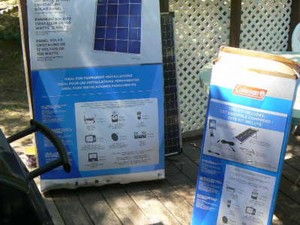 $250.00
100 watt 12 volt Solar Panel Coleman New never used. $250.00 40 watt 12 volt Coleman Solar Panel with stand used 3 days as new. $150.00 Phone cell 250-983-1215 or 250-983-9431

$40.00
Hidden hitch only asking $40 if interested call 236-424-0795 or email me at mjjholm@gmail.com

$100.00
This is a tow bar for pulling your vehicle behind your RV. $200/obo FCFS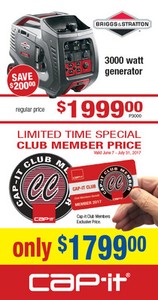 $1,799.99
Now on SPECIAL - $200 off regular price when you sign up to become a Cap-it Club Member Copy link for more details - http://cap-it.com/briggs-stratton-3000 Get more power for the great outdoors – ...

$399.99
Become a Cap-it Club Member and Save $40 bucks! Cap-it Club Price $399.99 - Regular $431.99 Generac's iX Series inverter technology takes the raw power produced by the generator and passes it through ...
$200.00
Easy hook up and tow with this 5th wheel hitch cost 500 brand new asking 200 250 992 0111
Sponsored Advertisements: