Panasonic transistor for plasma TV's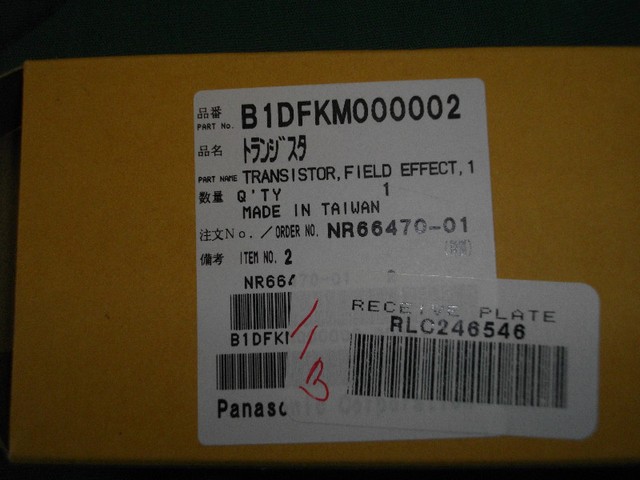 Description
ONE (and only one) brand new (never soldered) genuine OEM original Panasonic MOSFET surface mount transistor generic # 5N2307 Panasonic # B1DFKM000002 commonly used in Panasonic plasma TV's (37"-65") with 7 blinks of the power button's red standby LED.
This transistor is in the Y-SUS (Y sustain) board, Panasonic calls it the SC board part #'sTXNSC1NZTU, TNPA4250AB and TXNSC1HATJ and there are countless other board #'s this transistor is used in. Here is a repair article on it:
www.tvrepairtips.org/files/tip/286/tt_08_18_pdf_16529.pdf
Used in the following Panasonic plasma TV models:
TH370X60U TH37PG9U TH37PH10UK TH37PH9UK TH37PHD8GKJ TH37PHD8GSJ TH37PHD8UK TH37PHD8UKJ TH37PR10U TH37PR10UA TH37PR9U TH37PX50U TH37PX60U TH37PX100 TH42PC77U TH42PD50 TH42PD50U TH42PD60U TH42PE77U TH42PE7U TH42PG9U TH42PH10UK TH42PH10UKA TH42PH9UK TH42PHD7UY TH42PHD8GKJ TH42PHD8GSJ TH42PHD8UK TH42PHD8UKJ TH42PM50U TH42PR10U TH42PR10UA TH42PR9U TH42PS9U TH42PS9UK TH42PWD8GKJ TH42PWD8GSJ TH42PWD8UK TH42PWD8UKJ TH42PX500U TH42PX500UA TH42PX50U TH42PX50UA TH42PX600U TH42PX60U TH42PX6U TH42PX75U TH42PX77U TH42PZ700U TH42PZ700UA TH42PZ77U TH42XVS30 TH42XVS30U TH50PC77U TH50PE700U TH50PE700UA TH50PE77U TH50PF10UK TH50PF9UK TH50PH10UK TH50PH10UKA TH50PH9UK TH50PHD8UK TH50PHD8UKJ TH50PM50U TH50PX500U TH50PX50U TH50PX600U TH50PX60U TH50PX6U TH50PX75U TH50PX77U TH50PZ700U TH50PZ700UA TH50PZ750U TH50PZ77U TH58PE75U TH58PH10UK TH58PH10UKA TH58PX600U TH58PX60U TH58PZ700U TH58PZ750U TH65PF10UK TH65PF9UK TH65PHD8UK TH65PHD8UKJ TH65PX600U TH65PZ750U THEBP42F THEBP42F9 THEBP50F THEBP50F9 THPE4200NUJ THPL4200NUJ THPL5000NUJ TH42PX600U
I am asking only $11 firm. ORIGINAL ONES ARE DISCONTINUED AND ONLY KNOCK OFF OR FAKES ONES FROM CHINA THAT DON'T LAST ARE STILL AVAILABLE (and 4 or more weeks delivery).
No trades, will not ship or deliver, first come first serve. If the ad is still here it's still for sale. I don't text. If interested reply back with your tel #. Will only hold for maximum 5 hours after first contact as too many no shows from past experiences.
I am in Dartmouth and available anytime.
Take steps to make your Kijiji transactions as secure as possible by following our suggested safety tips. 
Read our Safety Tips