2BR Waterfront Vacation Membership; WIFE NOT INCLUDED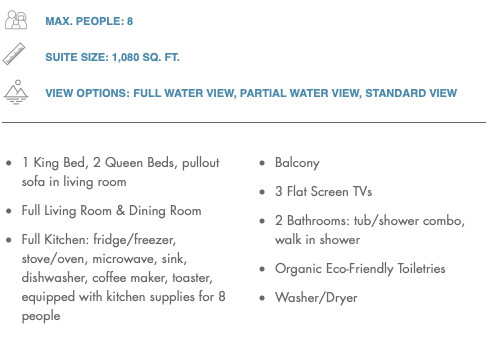 Bedrooms (#)

2 bedrooms

Bathrooms (#)

2 bathrooms

Sleeps

6-8

Vacation Type

Lake
Pet Friendly

Yes

City

Collingwood

Available Date(s)
Description
MEMBERSHIP TRANSFER AT COLLINGWOOD ONTARIO RESORT; TWO BEDROOM WATERFRONT SUITE ANNUAL LOCKOUT VACATION MEMBERSHIP FOR TWO WEEKS/YEAR; WIFE NOT INCLUDED Discuss options for us to pay YOU to take over.
Vacation in a luxury two-bedroom, two-bathroom suite with kitchen, living area and dining room in Collingwood Ontario- steps from Blue Mountain and Cranberry Golf Course at Living Water Resort. Everything you need- linen, towels, tableware, pots and pans, etc. is supplied, and there is a full-time concierge. There are awesome local restaurants to enjoy, or you can chef up your own cuisine right in your suite.
The unit sleeps 6-8 occupants, so it's great for families or friend groups, or just to stretch out as a couple. Activities at the resort and nearby include skiing at Blue Mountain, Golf, hiking, biking, fishing, boating, a marina, watersports, cave exploring and children's activities.
HOW DO THESE MEMBERSHIPS WORK? Members pay an initial fee to secure guaranteed weeks at the resort. After that, they only pay the annual usage fee, which entitles them to book the membership suite type for the agreed number of weeks.
The initial fee for this membership has been paid off in full, and the current annual usage fee for 2022 is $2325.77 CAD for the year. That breaks down to 166.3/night for a 2 bed/2 bath resort suite with kitchen! The two weeks can be taken together or separately. A guest certificate can be obtained for $65 if you would like to rent one or both of your weeks to friends or family.
The resort also allows vacation exchange opportunities for future or alternate bookings through Interval International, and the guaranteed weeks can be upgraded into VIP season. The agreement is guaranteed through May of 2060.
Some math: If, for example, you cost-share the 2022 usage fee between 6 people, your nightly cost would be under $28/night per person for the two weeks!
MY SALES PITCH, AND A BIT ABOUT THIS OFFER TO TRANSFER MEMBERSHIP:
A lot has changed in the vacation rental landscape over the past decade, and during covid in particular. It's pretty hard to secure a booking at an excellent Ontario destination in 2022 as the demand in domestic travel has skyrocketed. If you haven't rented your Airbnb for next summer, you're probably already too late. You'll need to perch beside the "book now" button at 7am on March 1st if you want to lock down even a basic Ontario campsite, where you can sleep on the ground forty feet from the slamming camper door of a family who had the foresight to order their Airstream before Ever Given got jammed in the Suez Canal.
This year, and for the foreseeable years, our much-needed vacations will be elite commodities, and people who planned ahead are the winners.
Winners like my wife and I… planners. Sensible, solid, committed people who didn't specifically predict this changed vacation landscape, but who wisely secured guaranteed access to a beautiful nearby vacation destination with all the "I wants"- to use ourselves, for friends and family, or to trade for credit at an alternate destination. We PROMISED ourselves we'd always keep that balance of work and play!
As it turns out, and you may not know this so brace yourselves- PROMISES ARE HARD TO KEEP. Just ask my wife, who not only entered into this vacation agreement with me, but who also promised to love and be faithful to me for the rest of her life.
If family unity is to survive, it should be on the platform of a vacation membership agreement, because that's harder to get out of than a marriage, which can apparently be dissolved on a random June night by just saying you don't feel like it anymore. (Likewise, your commitment to working, or raising your children, which are apparently things you can just stop doing while at the same time swilling prosecco and getting your face tightened or your eyelids removed and sewn back on somewhere better.)
As it's a shared asset with my now EX-wife, I am motivated to end my ownership at this property. I will miss it- it's a beautiful place near all the activities I enjoy, but I am immersed in the more practical aspects of life right now and besides I don't really want to go on vacation with a woman in high-heeled running shoes carrying a purse that cost more than my car who says she needs the braces money to live off.
If YOU are in a place where you are ready for the security of vacation membership (I suggest being SINGLE), you may wisely realize that you don't have to make the large initial investment, because some schmuck with a disastrous family situation already did that for you. WE SHOULD TALK. About 50k has already been invested, and it's time for the right person to have this gem! I will pay the legal cost associated with the transfer. *PS: The person this goes to will have full ownership and will not have to take my ex-wife along. ACT NOW, SINCE THE DEMAND TO NOT BE WITH MY WIFE IS HIGH!
Take steps to make your Kijiji transactions as secure as possible by following our suggested safety tips. 
Read our Safety Tips