Beautiful Lake Muskoka Cottage Rental: now booking Summer 2022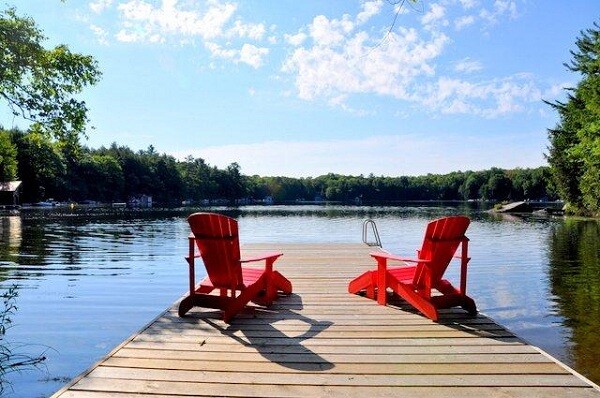 Bedrooms (#)

4 bedrooms

Bathrooms (#)

1 bathroom

Sleeps

8

Minimum nights

7
Vacation Type

Lake

City

Muskoka

Available Date(s)
Description
Beautiful, newly renovated, private cottage with Guest Cabin and screened-in Muskoka Room. Clean, well-equipped, with lovely views of the lake in a peaceful bay of Lake Muskoka. Sandy lake entry - perfect for children.
• Now booking 2022 and much of the summer is already booked by returning guests. We have the following weeks available: June 4-11 June 11-18 June 18-25 June 25-July 2 Aug 27-Sept 3 Sept 3-10 Sept 10-17 Sept 17-24
• Please contact us for current availability and pricing. Minimum 7 nights.
• Lovely, well-equipped and newly renovated 3-bedroom Muskoka plus Guest Cabin cottage sits at the water's edge of Lake Muskoka, located 5 minutes from quaint town of Bala (for groceries, shopping, restaurants, LCBO and more).
• Perfect for the family looking for a tranquil, quintessential Muskoka cottage experience.
• Accommodates up to 8 people: 3 bedrooms in the cottage and a Guest Cabin (with twin/double bunk beds). Bedrooms are neat, tastefully decorated and have great mattresses for a very comfortable sleep.
• You will enjoy fantastic views of a quiet bay of Lake Muskoka from the dock, living room, master bedroom and the screened-in Muskoka Room.
• Beautifully treed property, lots of natural vegetation providing privacy, shade and beauty. Enjoy reading a book in the hammock in the shade or bask in the sun on the dock.
• A level lawn playing area and a wide, hard packed sandy lake entrance is great for the kids. Sunny southeast exposure.
• Your children will love the lake-side sandbox and backyard playground.
• Screened Muskoka Room provides the most idyllic spot for dining, relaxing or playing board games in the evening.
• Due to the location of the bay, the water is very calm and great for swimming; however, with access to Lake Muskoka, Lake Rosseau and Lake Joseph you will have endless boating and fishing opportunities. Be sure to bring your boat, or rent one from one of the marinas, and enjoy cruising the big lakes that made Muskoka famous. A public boat launch is located minutes away.
• 16 ft canoe, pedal boat, adult life jackets, and swim noodles at the cottage for your family's enjoyment.
• Feel free to send an email for availability and additional information.
Feedback from Previous Guests: • "The only thing I can say is "Wow"! Thank you for making our family vacation as wonderful and effortless as it has been. I feel like we were visiting the home of a dear family friend instead of renting a cottage from a stranger. You thought of everything and in turn made our time here as relaxing as possible. I would, and will, recommend this to anyone who asks!!" • "Everything is amazing and all the special touches make it feel just like home. We even saw the turtles on the rock this morning! You certainly have a piece of paradise here." • "I know my wife already wrote to you but I wanted to send you a separate note letting you how impressed I was with the experience we had at the cottage this week. I have to say we were extremely delighted when we arrived to find the cottage so thoughtfully prepared for our arrival. Everything was clean, well kept and arranged. It was a warm welcome which went beyond our expectations. I wanted you to know how much we appreciated this. One of the reasons we picked your place was because of the photos showing the easy access our twin toddlers would have and the beautiful interior/exterior views you shared. The cottage, the dock and the beach were all perfect for us. It was nice that the water was shallow and our kids had no problems swimming out to the dock. We also loved using the canoe to paddle out and explore the lake. The cottage was perfectly stocked with all the amenities we could have expected. You obviously put a lot of thought into what people would need or think of. I felt like we were welcome guests. We enjoyed our time immensely and I'm thankful that you opened your cottage to us for our family getaway." • "Thank you, we had an awesome vacation. Your place was perfect for us. We will be in touch shortly about booking for next year." • "The week was wonderful! The beach area was perfect for our little guy and he had so much fun! We have never stayed in the area before and now love Bala. Thank you for making the cottage into a place where we could truly feel comfortable and at "home" for the week. We so enjoyed spending our nights relaxing in the screened room with the view of the lake." • "On behalf of our family we would like to thank you for sharing your beautiful classic Muskoka cottage with us. We had an awesome week together as a family and appreciated your very tastefully updated cottage, how well stocked it was, the comfortable beds, that fabulous muskoka room, the great waterfront and swimming area and firepit, canoe and more. We'll be back next year." • "Your place is absolutely lovely and wonderful. Your pictures don't do justice to how neat and tidy and well organized your place is." • "We had a great week at your cottage. The little boys in particular had a blast – they loved the sandy shallows beside the dock. The cottage was very clean, comfortable and well suited for our holiday by the lake. We enjoyed swimming, fishing, sunning on the dock, fires in the firepit and spending relaxing evenings in the comfortable muskoka room. You folks were great hosts – really appreciated the little touches. We also appreciated the quick response to the few questions we had during our stay." • "My family thoroughly enjoyed staying at your cottage and look forward to renting again next year." • "We just wanted to thank you for the wonderful cottage experience! We all had a terrific time and thoroughly enjoyed the cottage, which, by the way, was very lovely and comfortable. The kids met some kids from next door and had a ball! Thanks so much again - we really had a lovely stay and I loved all your added touches." • "We had a wonderful time! Loved the cottage – great location and beach area for kids. Cottage was extremely clean and well-stocked for our stay. We would love to come back!" • "So we're back from the most relaxing vacation we've had in years. Thank you sooo much for sharing your absolutely perfect cottage with us! We appreciate you sharing your little piece of heaven with us!" • "Thank you so much for a perfect holiday. The cottage is gorgeous with views of the lake almost everywhere you go, engulfed by peaceful forest and we couldn't have asked for more. We started the holiday with a downpour but the wood you left us made the cottage lovely and warm and the rest of the week turned to glorious, early fall weather. My daughter loved playing in the shallow waters – even at this time of year! And made friends with the neighbourhood ducks. I read two books enjoyed the comfort of the muskoka room." • "We just wanted to thank you again for such an incredible experience we had staying at your cottage. The lake was amazing for swimming for the kids. The cottage was in pristine condition and very well-equipped, with a great layout and fantastic views of the lake. The dock was perfect for the boat we rented and the moonlit sky over the lake at night was right out of a movie. We all had so much fun and the kids quickly decided that we were coming back next year." • "A note of gratitude for all you did in preparation for our arrival at your cottage. We've had only the most positive comments from everyone about how special Thanksgiving was and that the cottage was a real contributing factor! Our son went swimming three times (crazy, I know at this time of year but the weather really was gorgeous) and the canoe was used a great deal. Once the family left, we enjoyed the quiet....reading, drinking tea by the fire and going for long walks. Thank you so much folks, we had a fab time!!" • "Our vacation was beyond what we could have imagined. We had a wonderful time and look forward to booking again in the near future. Thank you very much, you really went over and above, we really appreciated it!" • "We thoroughly enjoyed our stay. Loved all the nice touches. We only have positive feedback – the cottage was clean, bright, well organized and had everything we needed." • "Thank you so much for the wonderful week. The cottage was everything we had hoped for and more. The little touches told us that you are involved owners with pride in their property. We have made lots of lasting memories here over the week. The lake is picturesque every morning with ducks, herons and beavers. We were amazed at how quiet it is, especially at night. Once again thank you for the cottage and we'll be in touch about next summer."
Take steps to make your Kijiji transactions as secure as possible by following our suggested safety tips. 
Read our Safety Tips