Prince Edward County (Belleville) Countryside Guest Rooms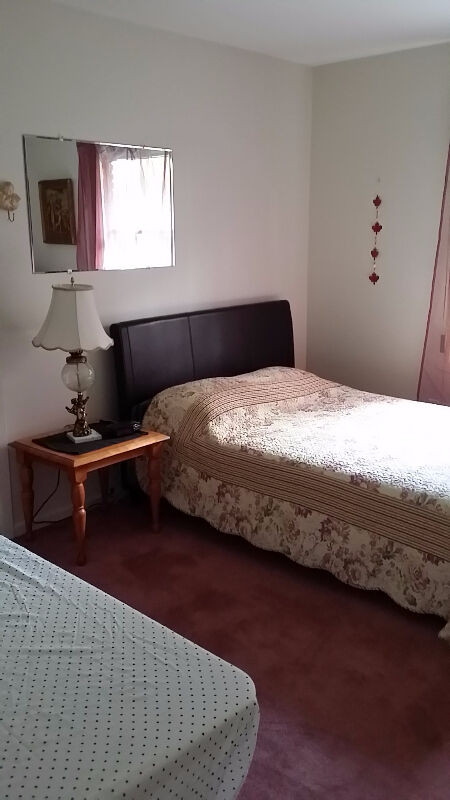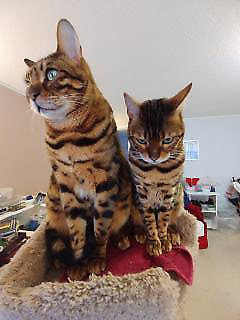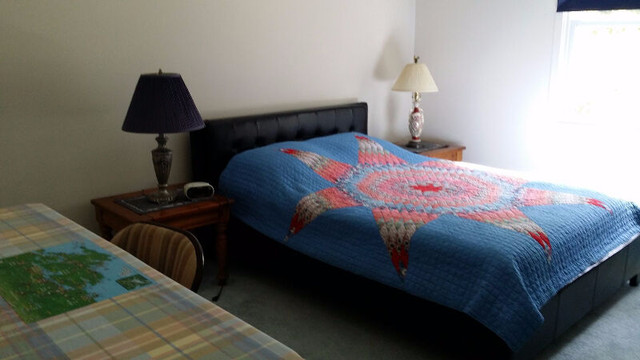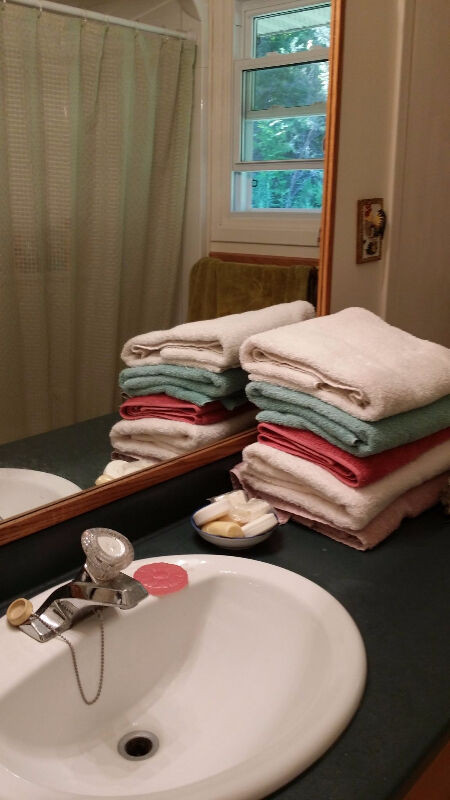 Bedrooms (#)

1 bedroom

Bathrooms (#)

1.5 bathrooms

Sleeps

2

Minimum nights

31
Vacation Type

Countryside

Pet Friendly

No

City

Belleville

Available Date(s)
Description
Minimum rental 31 days until further notice. ------------------------------------------ Nice Rooms, Prince Edward County just 5 minutes south of Belleville / As of Nov. 2, 2022.
I will let you know which rooms are currently available after you answer the questions below.
IMPORTANT: Before responding, PLEASE READ CAREFULLY ALL THE WAY TO THE BOTTOM to see what I need from you to get started. To get a response, please email me with answers to the questions at the bottom of this ad. For a faster response, you can cut and paste the questions and type the answers beside them and send to thecounty@kos.net
We are in beautiful Prince Edward County just 5 minutes south of Belleville. Private, quiet country setting with large deck and views of woods from all windows. You will see birds, squirrels, bunnies, my pet chipmunk Chippy, opossums, my feral cats, and the occasional deer. We have a big back yard going back to woods. Our rooms are nicely furnished with a double bed, a large desk and simple furniture in a modern comfortable house. Your room has air-conditioning, a space heater, a fan, and a window that opens. Included in rent: Wifi, use of kitchen (only if tidy), heat, air conditioning, hydro, treated well water, use of washer/dryer (not for really dirty clothes), and one parking space. Our home is best suited to clean, tidy, and easygoing working people. No dogs. You may be able to bring a cat if it can stay in your room ($10 per week). I already have a Bengal and a Serengeti, and they own the house. Fish and birds are welcome too if they are quiet, the cats agree with me on this. It's peaceful and quiet here. -------------------------------------------------- Room #1: Basement Room with private washroom It is a large and cozy (20'x20') basement room with adequate light. A sink, full fridge, microwave oven, kettle, electric can opener, and toaster are provided in the room. A full kitchen is upstairs if needed. $1000 per month
Room #2: Sunny Room on main floor This is a sunny main floor room with a beautiful view of lawn, woods, and bird feeders. $900 per month ------------------------------------------------------------- Rooms may be rented daily, weekly, or monthly. (Daily and weekly not currently available) Rent includes reasonable use of hydro, heat, air conditioning, water, and internet. Monthly rent (single occupancy) is $850 to $900 first/last. Double occupancy is $500 per month more. Weekly rent (single occupancy) is $250 first/last. Double occupancy is $150 per week more. (Rooms are currently only available for stays of 30 days or more.) Daily rate is $100 for one person or 120 for two. (Rooms are currently only available for stays of 30 days or more.) On stays of less than 30 days there is a Prince Edward County tax of 4%. (Less than 30 days not currently available.) For monthly or weekly arrangements (when available), we require first/last unless you are staying only one month or one week. You may not have visitors. Please pay by e-transfer, not by cash. You will get a receipt. Laundry may be done for you for $10 per load or do it yourself for free (weekly or monthly guests only). Parking is free for one car, or $30 per month for a second one if space is available. A deposit of $60 per person is required for cleaning or damage. If there is no damage and the room is as clean as it was when you moved in, this will be returned to you when you leave. ------------------------------------------------------------- Please do not respond if you are a smoker of anything, we cannot accommodate you, not even outside.
We are countryside, on Highway 62 about 5 minutes south of the Bay Bridge from Belleville, especially convenient for someone who is working in Belleville. You will need a vehicle to get here. Some distances by car:
4 minutes to Rossmore Stop where there is: a PetroCan gas station, and a post office in a convenience store Rossmore restaurants and food: Legendz Pub, a pizza place, a breakfast/lunch restaurant (Darlin' Deb's), an upscale deli with fresh-cooked take-out dinners and fresh meats and veg (Gilmore's), and a liquor store with a good local wine and beer selection
15 minutes to Bloomfield (some nice restaurants and a deli there) 15 minutes to the Hillier wineries 20 minutes to Wellington 20 minutes to Picton and the Picton Hospital
5 minutes to Belleville (across the Bay Bridge) 10 minutes to Belleville City Hall 10 minutes to Albert College 15 minutes to Truss 15 minutes to Loyalist College 15 minutes to the industrial park 15 minutes to most Magna sites 15 minutes to Procter and Gamble 15 minutes to the VIA Rail train 15 minutes to CN Rail (cargo trains) 10 minutes to Belleville General Hospital 15 easy minutes to the Belleville casino!
20 minutes to CFB Trenton (military welcome, I am from a military family!) 20 minutes to Trenton Memorial Hospital 15 minutes to Shannonville in Tyendinaga Reserve (buy tax-free gas and other items) 15 minutes to the 401 ----------------------------------- IMPORTANT: When responding please tell me a little about yourself, I will get back to you after you answer the questions below: Please respond with from your private email to thecounty@kos.net
1. What is your name (first and last)? 2. Where are you from? 3. What kind of work do you do and where do you work? 4. Do you have a car? 5. When do you need the room? 6. How long do you plan to stay? 7. Why are you moving now (for monthly renters)? 8. Do you smoke (anything at all)? 9. Are you neat and tidy and will you clean up after yourself? 10. Do you like cats? 11. Are you allergic to cats? 12. Are you willing to wear a mask when in the same room with other people? 13. *** What is your cellphone number? *** 14. Between what hours can I phone you? (e.g. from 7am to 11pm, please be specific)
AFTER receiving this information, I will respond to all serious inquiries. Due to time restrictions, I may not be able to respond if you don't give me the basic information I need to decide if it might work out for both of us. * Please double-check that you have answered all 14 questions, and make sure your phone number and best time to call are there.
Thank you.
Take steps to make your Kijiji transactions as secure as possible by following our suggested safety tips. 
Read our Safety Tips