Private 4 Bedroom Muskoka Cottage on Muldrew Lake for Rent
Posted
N Muldrew Lake Rd, Gravenhurst, ON P0C, Canada
(View Map)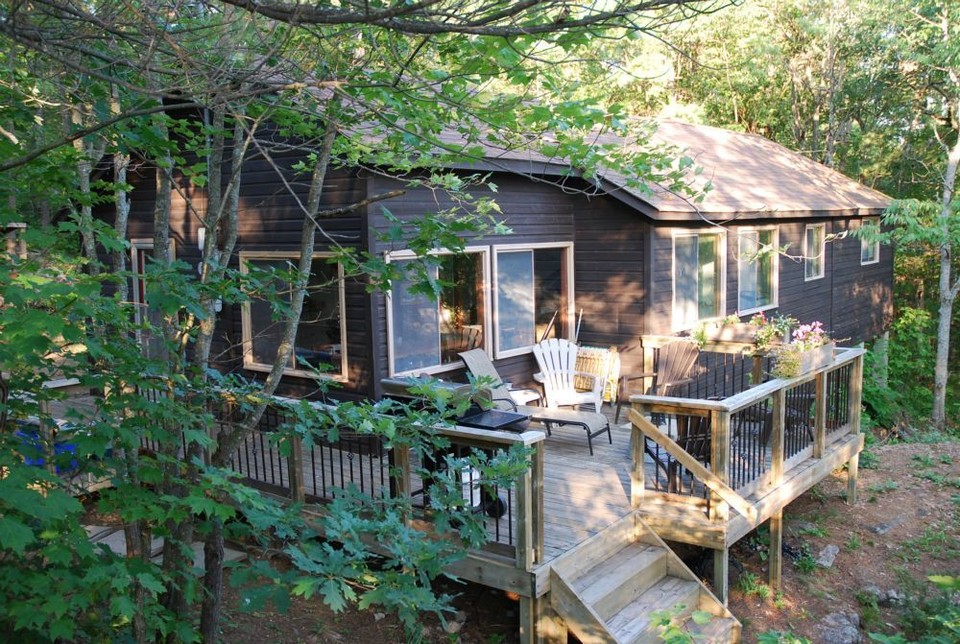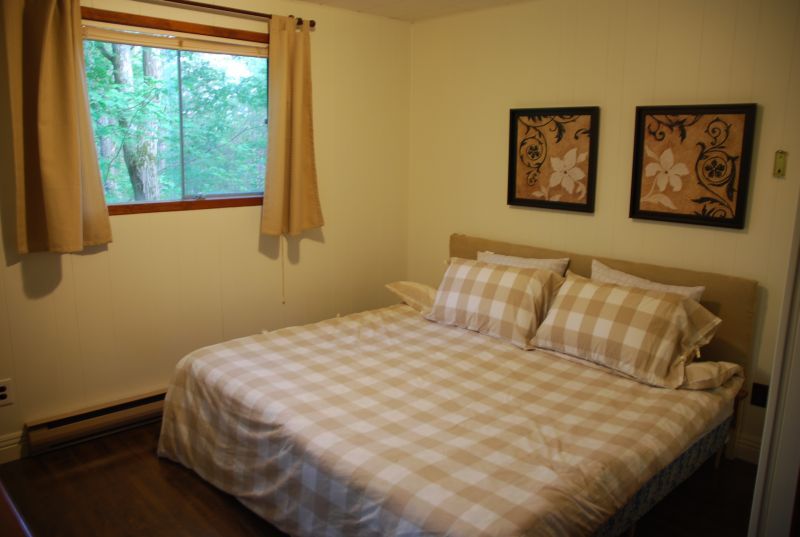 Bedrooms (#)

4 bedrooms

Bathrooms (#)

1 bathroom

Sleeps

8

Minimum nights

2 (1 week minimum in July and August)
Vacation Type

Lake

Pet Friendly

No

City

Muskoka

Available Date(s)
Description
Wonderful, Private 4 Bedroom Muldrew Lake Cottage/Sanctuary
Thanks to the loyal guests that have enjoyed the amazing spring, summer and fall seasons at our Muldrew Lake retreat and thanks for your part in making it another safe and successful cottage rental season. We are now taking reservations for the 2022 season.
This wonderful Muskoka property, located on pristine Muldrew Lake, (5 minutes from Gravenhurst, in the heart of Muskoka about a 1.5-hour drive from Toronto), offers a magical blend of nature, broad lake vistas, location, an ideal exposure, comfort and privacy. Situated on an expansive 3-acre lot with 600 feet of lake frontage, only one other cottage is visible from our dock.
This cottage, a bungalow with a unique waterfront, boasts south western exposure with mesmerizing sunsets. We have a 10' x 20' dock which is attached to an 8' x 16' floating dock offering plenty of sun-drenched dock space for your family or group. There is both deep water and a sandy beach area for the little ones.
Four key features to look for in a Muskoka cottage rental (hint: we offer all four!): 1/ Exposure - Southwest exposures offering full sun right to sunset and fewer bugs (as the southwest prevailing winds blow them off the dock).
2/ Location - many cottage renters hide the fact that their cottage is located on an un-assumed, pot-holed road, many kilometres from the nearest town. A cottage on a town-maintained, paved road, that is close to town offers ultimate convenience. No one wants to drive 30 minutes because they forgot to buy marshmallows!
3/ Broad Vistas - a cottage with sweeping vistas, especially from on high, can be a glorious way to enjoy Muskoka Lakes.
4/ Privacy - Experienced cottagers know that a rental scenario is best enjoyed when you don't have noisy neighbours all jammed together in a congested area, where guests are forced to listen to each others conversation.
Many of our guests are repeat customers and prime time rentals are generally booked well in advance. We recommend you book as early as possible to be sure to get the rental time frame you wish for. The early bird gets the worm.
Covid-19 Precautions: We are very careful about providing a safe environment and have implemented a strict cleaning policy to disinfect as much as possible and especially frequently touched surfaces prior to each visitor. This includes tables, doorknobs and locks, light switches, counter tops, toaster handles, desks, dock furniture, toilets, faucets, coffee maker buttons, and even BBQ knobs. We were fully booked all summer and well into the fall in 2020 and 2021 with no reported virus incidents.
Availability - We have still lots of availability for the spring summer and fall of 2022. We are booked from July 9 to July 29 at present.
2022 Early/Late Season Rates (May-June, September-October)
$1400 Regular Weekend (before June 21 or after Sept 10) $1850 Thanksgiving Weekend (Oct 7 - 10) $1920 for Labour Day Weekend (Sept 3-5) $2480 1 week High Season (July 2 to Sept 3) $4700 2 weeks High Season (July 2 to Sept 3) Greater than 2 weeks - High Season – inquire for discounted rates $2850 Last Week of June (June 26-July 3) or First Week after Labour Day ($407/night) $1540 per weekend in the last week of June $405/night for the 5 days after Labour Day N.B. Thanksgiving Monday is on October 11 for 2022
Please note that HST will be added to all quoted rental rates.
2021 High Season Rates (July and August): $3350 per week $6450 for 2 weeks Greater than 2 weeks – inquire for discounted rates
Free unlimited wifi is included in high season rentals (July and August).
There are four bedrooms, two of which have two single beds (singles can be moved together into one king sized bed), one bedroom has a queen bed and the other has a bunk bed (two singles). We bought new mattresses last summer for this cottage so expect a comfy sleep!
We continue to make improvements to the accommodations, including a recent renovation of the bathtub and shower unit. We have renovated the kitchen adding ceramic tile flooring, a dishwasher, fridge, counter top and a faucet. There is a large screened-in gazebo for a leisurely afternoon reading session or a board game, a sizable kitchen table with room to add a second table should more dining space be needed. There is a TV and DVD player and a large cabinet full of fun games to play and over 25 movies to watch. We now offer unlimited internet connection for high season rentals (July and August) as well so you can stream your favourite shows on your devices or the tv if you so choose.
The cottage comes with a canoe with paddles, life jackets, 2 kayaks and a small rowboat with oars. If you would like to bring your own motorboat, there is a free boat launch .5 km from our dock. The living room offers a fireplace and sweeping views of the lake. On the sun-drenched wrap-around deck, there is a Napoleon Bar-B-Q, a cast aluminum dining suite, outdoor dart board, and plenty of Muskoka chairs for congregations.
Our natural raised stone area with a fire pit for evening bonfires is always popular with guests. Magnificent granite steps lead you down to the lake and to the dock and waterfront area.
Muldrew is a long (8 km), narrow lake with lots to discover for the adventurous. It's almost always calm for water skiers and kayakers/canoers, warm for swimmers and lucky for fishermen. The local jumping rock is right on the property (but do you have the nerve to make the leap?) Muldrew offers a piece of nature's heaven!
Please be considerate of the Great Blue Heron who has lived in our bay for many years. Muldrew is very scenic with narrow channels and lots of exposed granite. There are unlimited nature paths around the cottage and great fishing on this serene lake including small-mouthed bass, pan fish (sunfish and rock bass), catfish and the occasional, elusive pike.
The highly touted Muskoka Bay Golf Club is only 1.5 km away and Taboo Resort and Golf Club is also just a 10-minute drive as well. Shopping and dining at Gravenhurst Farmers Market and the Muskoka Wharf and boat launch are 5 km away. Go for a sail on the RMS Seguin or Wenonah steamships and experience Muskoka's history and breathtaking scenery. There are excellent walking/riding trails and tennis nearby. See historic Bethune House, Torrance Barrens Dark Sky Preserve, or the High Falls at Bracebridge. For those who enjoy exploring Muskoka by boat, one could drop their boat into Muskoka Bay and boat for days through the three big lakes.
As the cottage is not winterized, we book from May to October. Minimum 1-week rental during for July and August. Weekend or mid-week rates available in June, September or October. To accommodate guests with allergies, pets are not permitted. Guests are permitted within reason as long as we are informed in advance. Pets of renter's guests are not permitted.
We offer discounted rates for weekend or weekly rentals in the non-prime season (anytime except July and August). Weekends during the non-prime months are at a rate of $1400-$1840 depending on the timing. The full week rate for non-prime (spring or fall) season is $2480 a solid discount from the high season rate! The full week rate for prime time (July and August, 2022) is $3350. The early bird gets the worm!
Discounts are offered for more than a one week rental or for weeks outside of July and August. Full season rate: negotiable (but book early)
Damage deposit of $700 plus HST required in advance for 1 week or longer rental, $400 plus HST for weekend rentals, 30% deposit required on booking with the remainder payable 1 month before your booking date.
Cleaning fee: There is a mandatory cleaning fee of $120 plus HST for all guests in 2022. (This ensures your vacation time is maximized and the cottage is left in the same pristine condition that you find it in on arrival).
For more details and photos, visit our site at: https://sites.google.com/site/muldrewlakerental
For inquiries, please contact Ted at 416-809-9195 or via email ted_nixon at hotmail.com
Take steps to make your Kijiji transactions as secure as possible by following our suggested safety tips. 
Read our Safety Tips