Results in Paintball
Showing 1 - 12 of 12 results
---
Please Contact
Looking to sell the last of my gear. -Ninja lite tank 68/4500 only used in two tournaments last year. Didn't get used this year at all. -HK Army pants size medium 28-32, bought them new at the ...

$40.00
Gog Paintball vest...one size fits all....lots of pouches and air tank pouch in back

$40.00
Contract killer paintball pants size medium (30/32) old school pants in excellent condition for age

$100.00
Dye repair kit... comes with 4 boards....one in plastic bag was repaired....works but unsure of modes...all others work as they should.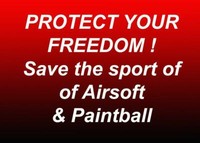 Please Contact

Shipping by seller
PROTECT YOUR FREEDOM Save the sport of Airsoft / Paintball and your own Freedom! Sign the petition against Bill C-21 that was created by the Trudeau government to outlaw the sale and import of any product that resembles a gun. You won't know the freedom you've lost until the government takes it away from you.

$75.00
4 jt z100, 4 bunkers(one has a slow leak) only 2 bags of paintball, 4 disposable suits, one gun shown has damage All for $75 Hardly used.
$500.00
Selling my paint ball gun since i havent used it in years. Empire mini paintball gun 300$(used a handfull of time, sensor dosent always work) Automatic hopper 120$ Spyder imagine paintball gun 150$ ...

$60.00
Like new tactical vest good for paint ball. Has pouches and foam padding in chest and back

$50.00
Paint ball gun, reservoir, canister and mask. Used for competitive paint ball. Safety removed from gun.

$5.99

Shipping by seller
XVENTURE® .50 CALIBER PORTABLE CHARGER POWERBANK FEATURES OVER-CURRENT PROTECTION TO MAXIMIZE BOTH COMPATIBILITY AND CHARGING SPEED OF YOUR DEVICE Features Portable power source for your mobile device Includes a Micro USB cable for charging 2500mAh Capacity, 1A Output Over-Current Protection Brand new product

$39.95

Shipping by seller
AIRSOFT LOGIC® SMART AIRSOFT AND R/C CAR BATTERY CHARGER UL APPROVED FOR SAFELY CHARGING LIPO, LIFE, NIMH AND NICD TYPE BATTERIES Features Independent power source charges each cell to ensure the maximum charge for each cell and to prevent overcharging of any specific cells Intelligent auto stop helps to prevent
Sponsored Advertisements: