---

$20.00
Sault Ste. Marie
< 18 hours ago
PASSAGE HALL / CLOSET DOOR HANDLE SET, by EPIC Locks, Satin/Nickel finish. Never opened and still in sealed packaging. $20.00
$100.00
Sault Ste. Marie
< 24 hours ago
Looking for a patio door for a cabin/camp Willing to pay any reasonable price
Please Contact
Sault Ste. Marie
30/06/2021
Looking to buy two solid core wooden doors. Would prefer flat(no panels) but I will consider anything available.

$160.00
Sault Ste. Marie
25/06/2021
I bought the wrong size. I painted them twice and even a strip on backside. It was painted with lifemaster trim paint. Asking 160. Theres 31 pieces of 8' 3 1/4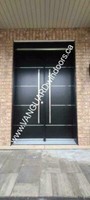 Please Contact
Our manufacturer focuses primarily on all types of exterior doors. We carry a variety of styles; fibreglass, steel, patio doors, garage doors, as well as some unique designs that are available only with us. We supply and install all kinds of exterior doors and windows. While purchasing a product and service with

$40.00
Sault Ste. Marie
21/06/2021
Antique Brass, satin finish. Work perfectly. Wife wanted brushed nickel on all doors so I don't need these any longer. Have the keys. Great for garage, camp or home. Have 2 matched keyed sets ...

Please Contact
Sault Ste. Marie
20/06/2021
Commercial glass door available. 35 3/4" x 83 3/16" Best offer.
Please Contact
Sault Ste. Marie
19/06/2021
Looking for 5 or 6 windows for a cabin build. Must have good seals. Size doesn't matter. Same with the patio door. Let me know what you have. Thank you

$80.00
Sault Ste. Marie
10/06/2021
I have for sale a new door Sidelight panel with decorative glass. The panel measures 14x79.5 and the glass alone is 9"x66.5" to outer frame. $80 call or text 7059435811

Please Contact
Sault Ste. Marie
09/06/2021
Window, Door Screen repair or replace service. Let the breeze in while keeping the bugs out. Free Estimates. Text Rob (705) 998-1362 Or call
Sponsored Advertisements: