---

$12,500.00
I have a very nice fuel injected street glide with many add-ons . Stretched saddle bags with new style one touch open lids, bag liners, bag lid covers, new tires, new cobra true dual exhaust head ...
35,000 km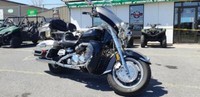 $7,000.00
2009 Yamaha Royal Star Venture. Consignment Sale Irwin Supply has been proudly serving Cornwall and area since 1937. Your local 5 star Yamaha, Honda, KTM and G3 boat supplier. We service all makes ...
67,376 km

$3,000.00
Runs good, USB port, running lights, new rear tire and breaks, saddle bags, cover
86,000 km

$1.00
...Please ask if you don't see what you are looking for...many parts fit other model Yamahas ...CHROME & MISCELANEOUS PARTS... front fender guards (not pristine) one only OEM Yamaha Venture Royal ...

Swap / Trade
1983 honda goldwing not running needs carbs cleaned was told it was running when parked has ownership did some work to get the bike and dont need it already have one best offer takes it or try your ...
12,345 km

$6,500.00
Selling a 1999 BMW touring motorbike K 1200 LT ..it has 42893 km, has cruise control, has reverse, window raises, 4 speaker cassette stereo system, clock and gear indicator also put in a new battery ...
42,893 km

$14,000.00
This is an American bike originally from Colorado and I have all the original purchase documents. I am the 3rd owner, put on 25,000 miles and have had zero issues. This bike comes with: - screaming ...
80,000 km
Sponsored Advertisements: