---
$800.00
65" Sony Bravia LED 4K TV XBR65X900F bought in September 2018 at Best Buy for $2,270 plus HST. I have the original receipt and the manual. TV is in like-new condition and works excellent. You can ...
$100.00
Looking to sell my LG TV. Works like new, info in photos. $100 obo
$200.00
Excellent condition, everything working fine. Remote included.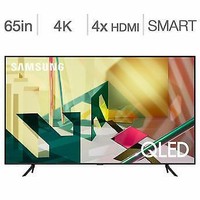 $749.99
4 Locations to Serve you! S.W. - 403.454.0044 - Openbox Aspen N.W. - 403.453-6716 - Openbox 16 Ave S.E. - 403.253.7955 - Openbox Macleod N.E. - 403.250.7767 - Openbox Sunridge STORE HOURS Monday to Saturday: 10am to 6pm Sunday & Holidays: 11am to 5pm 55" SAMSUNG QN55Q70T - QLED Equipped with Quantum Dot Technology,
$75.00
Just moved and ended up buying a newer tv. The tv isn't a smart tv. Just your basic tv. Not really even sure the screen size I just know it's bigger then 50 inch. Comes with remote ! And pick up only
Please Contact
SHARP TV MODEL LC-20B6U 16 INCH VIEWING SCREEN $35.00 GREAT FOR KIDS ROOM, GARAGE,SMALL CAMPINGTRAILER , ACER LCD MONITOR SIZE 19 INCH DVI-DN, VGA ,KEY BOARD $25.00, HARMON/KARDON HK 695 SPEAKERS ...

$660.00

LG 49NANO86UNA -- $660 (Tax included) Condition: Factory Refurbished Overview LG NanoCell produces true colours by applying about 1nm-sized nanoparticles to filter out dull colour. It delivers stunning visual immersion. It's a 4K picture that defines quality. Over 8.3 million active pixels of 4K deliver 4 times

$399.00

Condition: Used - Grade AA+ Warranty: 3 Months Order Online: https://qtronics.ca/en/items/194/panasonic-pt-vw330-lcd-projector Panasonic PT-VW330U Projector Specifications: White Brightness: 3,000 ANSI Lumens Resolution : 1280x800 Aspect Ratio : 16:10 (WXGA) Contrast: 2,000:1 (full on/off) Display Type: 2 cm 3LCD

$1,600.00

You can order from our website www.kjdist.ca then we can ship it! LG OLED55CXPUA -- $1600 (Tax included) Condition: Factory Refurbished Overview Once you've seen LG's ultra-high definition OLED TV with your own eyes, you'll understand the hype. It's a stunning picture that redefines quality. Millions of OLED pixels
Sponsored Advertisements: