---
Free
Sault Ste. Marie
17/07/2021
Works great just need room in my garage. Comes with cables to connect to other devices.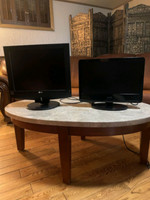 $80.00
Sault Ste. Marie
10/07/2021
2 flat Screen tv's, one is a LG 21"and the other is a VIZIO 19 " both come with stands but no remotes and are in good condition.. Open to offers.
$80.00
Sault Ste. Marie
06/07/2021
Needs tv panel replacement due to it being dropped on the corner
$640.00
Sault Ste. Marie
28/06/2021
Realized to big for room, was last one pretty much anywhere for a while. Great picture. 640 firm.

$399.00

Condition: Used - Grade AA+ Warranty: 3 Months Order Online: https://qtronics.ca/en/items/194/panasonic-pt-vw330-lcd-projector Panasonic PT-VW330U Projector Specifications: White Brightness: 3,000 ANSI Lumens Resolution : 1280x800 Aspect Ratio : 16:10 (WXGA) Contrast: 2,000:1 (full on/off) Display Type: 2 cm 3LCD
Please Contact
Sault Ste. Marie
27/06/2021
Looking for 5 used TVs 32" Must be in working order Remote not necessary Message me your price!
$120.00
Sault Ste. Marie
24/06/2021
Flat HD 50 inch tv. Was perfect and fine till power outage caused blacklight to malfunction. Sound and dim pictures now as backlight get fixed it will be like new.
$200.00
Sault Ste. Marie
07/06/2021
Up for sale is my 42 Inch Panasonic Plasma TV. It's in great condition with a great picture. Just upgraded my main TV, so time to sell this as it's just collecting dust. Message me with any ...

$660.00

LG 49NANO86UNA -- $660 (Tax included) Condition: Factory Refurbished Overview LG NanoCell produces true colours by applying about 1nm-sized nanoparticles to filter out dull colour. It delivers stunning visual immersion. It's a 4K picture that defines quality. Over 8.3 million active pixels of 4K deliver 4 times

$1,600.00

You can order from our website www.kjdist.ca then we can ship it! LG OLED55CXPUA -- $1600 (Tax included) Condition: Factory Refurbished Overview Once you've seen LG's ultra-high definition OLED TV with your own eyes, you'll understand the hype. It's a stunning picture that redefines quality. Millions of OLED pixels
Sponsored Advertisements: